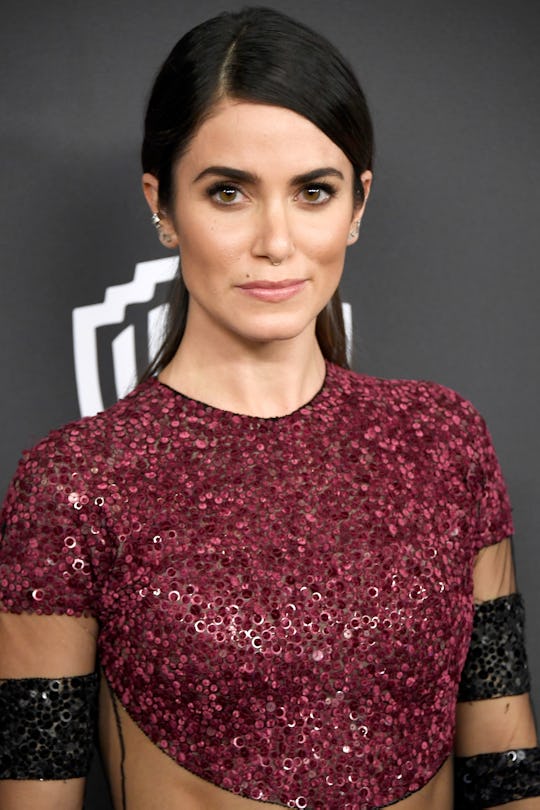 Frazer Harrison/Getty Images Entertainment/Getty Images
Nikki Reed's Quotes On Pregnancy Are So Refreshing
Since announcing the coming addition to the family in May, celebrity couple Nikki Reed and Ian Somerhalder have gushed numerous times about the wonder that is parenthood. The journey, it seems, was just as exciting as the destination for the two, who welcomed their daughter, Bodhi Soleil, in August. Nikki Reed's thoughts on pregnancy show just how beautiful and magical the time was for her.
Reed and Somerhalder shared the news of their pregnancy in an adorable Instagram post on May 5, and their anticipation and love shined through the caption. The photo included a photo of Reed's bump and a happy dad resting his face against it. Reed captioned her post:
I know you, but only because I feel you. How is it possible to love someone so much already? All I know for sure is it's the strongest feeling I've ever felt. We've been sharing this body for quite some time, and we've already experienced so much together. We can't wait to meet you…Love your parents.
The sweet caption was only the beginning of Reed's shared sentiments on the magic of motherhood. She opened numerous times about how her pregnancy has made her feel and the quotes are inspirational.
On Finding Out About Pregnancy
Reed and Somerhalder were understandably elated to discover that they were expecting. In an adorable anecdote, Reed explained how it all went down:
"I'm an early bird and took the pregnancy test before dawn. I didn't have my glasses or contacts and I can't see without them. I was squinting, thinking, 'Are there any more lines?' I yelled to Ian, 'Get up!' He ran into the bathroom, read the test, and we were so excited. We watched the sun come up together, just thinking, 'Wow, we're going to have a baby.' "
On The Perspective That Comes With Pregnancy
In an interview with Fit Pregnancy and Baby, Reed discussed how the news of her pregnancy impacted her outlook on life. As any mother knows, it's not all about you anymore once a baby is in the picture:
Being pregnant gave me instant perspective. It's the first time in my life I've passed on anything that isn't exactly what I want to be doing. Pregnancy is the moment you find your path and do what you want, when you want, how you want.
On Body Positivity
In the same interview with Fit Pregnancy and Baby, Reed opened up about the wonder that is her pregnant body. Even in the harsh Hollywood spotlight, she was sure to love every inch of herself:
As an actress, I'm surrounded by chatter about my body. How do I look on the red carpet? Whose dress am I wearing? I've always rebelled against that, but being pregnant has given me this new and powerful appreciation for my body. Why do I suddenly have this layer of fat? Oh, it's because my body needs to create breast milk. Why am I hungry and thirsty? Because my body is creating amniotic fluid. I want to write my pregnant body love letters, it's so f*cking cool!
On Pregnancy Fitness
With pregnancy comes a new set of restrictions and guidelines. Reed told Fit Pregnancy and Baby that she found herself unable to do some of her favorite things while pregnant, such as horseback riding, but that didn't stop her from remaining active:
I still do workouts. I take a 30-minute walk every day. Five days a week, I do 30 minutes of cardio, usually either jogging—which is now kind of a combination of jogging and scooting—or the elliptical. I carry 2-pound weights and do hills. I do yoga. I lift weights. I do workout videos when I can't do outdoorsy things. And I just got water weights, so I can work out in the pool. I've always been an active person. It's what makes me feel good. As long as the baby's fine, I'll keep it up."
On Quiet Time With Baby
The beginning of a child's life is a new and exciting time. During the first month, mom and dad learn all about their new little one and life together. Reed and Somerhalder plan to spend the first month with the baby out of the public eye:
"We'll take the baby's first month for ourselves. After the baby arrives, we're doing one month of silence. Just the three of us, no visitors, and we're turning off our phones too, so there's no expectation for us to communicate. Otherwise, every five minutes it would be, 'How are you feeling? Can we have a picture?' You don't get those first 30 days back, and we want to be fully present."
With swollen feet, morning sickness, and anticipation of meeting the baby, moms may be tempted to rush through pregnancy and get straight to the delivery room. But it is important to remember how magical pregnancy is in and of itself. As Reed's quotes remind us, it is something to be celebrated.