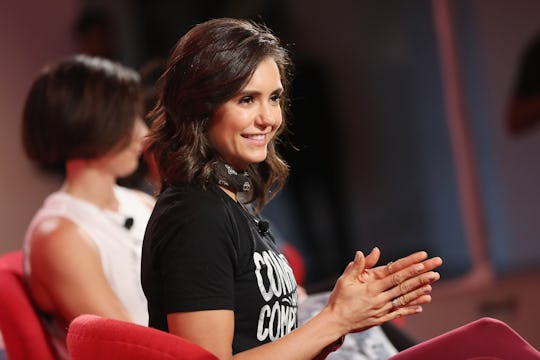 Monica Schipper/Getty Images Entertainment/Getty Images
Nina Dobrev Opens Up About How Her Workouts Have Changed As She Gets Older
As a brand ambassador and a collaborative partner with Reebok, Nina Dobrev has to set the bar high when it comes to staying in shape. The good news? Dobrev has become somewhat of a fitness guru, something that anyone who follows her on social media has likely already realized. Whether it's hiking the terrain of southern California, showing off her yoga poses, or taking a fitness-infused dance class, Dobrev is always on the move. But for Dobrev it's not necessarily about how she looks, but more how she feels — a refreshing take on fitness when it comes to one of Hollywood's IT girls.
Now, I am not someone who is known for being big into fitness. Sure, I work out from time to time, and sometimes I even eat healthy food like vegetables, but I am nowhere near Dobrev when it comes to being in shape. I already knew this, but it was burned into my brain when I took a BODYJAM preview class with Dobrev featuring a workout she helped develop as a partner with Reebok and Les Mills. Before I get to that, let me tell you more about how Nina Dobrev opened up about how her workouts have changed over the years.
When I meet Dobrev, pre-workout, she's embracing the calm before the sweat storm. Wearing head-to-toe Reebok, Dobrev is seated at a small table in a dimly lit room where we chat face-to-face over candlelight. She's taller than I expected, something I notice without her even having to stand up, and soft spoken — even as we agree that the room we're in is a little too chilly. "Let's put [the AC] on a timer where every fifteen minutes it turns off, and then fifteen minutes it turns on again," Dobrev says, half-joking, half-serious.
It's time to dive into our interview, so I ask Dobrev something I hope I'm not the only one wondering: how has her routine changed over the years? As many TV lovers know, Dobrev is best known as Elena on The Vampire Diaries where she played a human-turned-vampire-turned-human. Personally, I think that sounds like the kind of role that entails a lot of working out and physical training. Dobrev's next role is drastically different, as she's starring in an upcoming 30-minute sitcom for CBS called Fam, so I assume her routine has changed a bit. I'm not wrong.
"I have to do it a lot more the more... the older I get," Dobrev tells me honestly, with a laugh. "I used to be able to inhale anything, and it wouldn't make any difference. And now I just have to be more regimented with my diet and my routine." As a women who is a few years older than Dobrev, I can relate: the bottomless pit that was once my early 20-something stomach has reached max capacity. Worse? It likes to remind me of that every time I over indulge. Rude, right?
But, how does this affect Dobrev's work as an actress? For the better, actually, because now she has the necessary time to make sure she is taking care of herself in between shoots. "With the comedy and the sitcom and the live audience aspect, the hours are different, so I have a little bit more time in my schedule to be able to do that," she explains, adding, "It's really fun to be in front of a live audience."
When it comes time to workout, Dobrev opts out of taking the stage with the instructors and instead joins the crowd on the floor. I promptly secure myself a place in the back of the room where no one can see how terribly I do, but it's hard not to watch Dobrev as she nails every move. Sure, she helped create the workout we're doing, but there's something about her energy that is both palpable and contagious. I wonder if I can get her to be my personal trainer, but quickly remind myself she has much better things to do with her time.
However, Dobrev isn't all about every workout she comes across. I couldn't help but ask what the fitness fanatic's least favorite workout was, and her answer didn't surprise me: burpees. "I have to do them all the time, and I hate them," Dobrev admits. "I don't think burpees are ever anything someone ever looks forward to." Her favorite workout? Well, if you've already assumed that it's dancing you would be 100% correct.
Dobrev went into detail about why dancing was her favorite fitness regime, explaining, "You're doing the cardio, but you don't feel like you're doing the work, 'cause your mind is distracted because you're having a blast." And I can confirm that Dobrev was, indeed, having a blast.