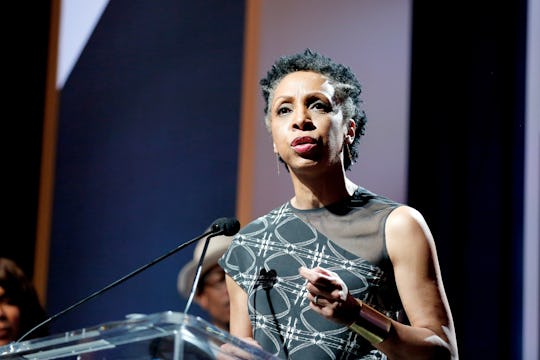 Rich Polk/Getty Images Entertainment/Getty Images
Nina Shaw's Women In The World Comments Should Make Everyone Stop & Listen
Entertainment lawyer Nina Shaw touched on an important issue facing American race relations when she told an audience at the Women in the World Summit on Thursday that it was "impossible to understand the history of American without understanding the history of its enslaved people." The annual Women in the World Summit, launched by noted editor in chief Tina Brown in 2010, invites influential international female figures in the fields of politics, media, and activism to convene and share stories and solutions for women across the globe. This week, it was lawyer Shaw's Women in the World comments about diversity in history that were particularly compelling.
The talent attorney's comments came during a panel discussion called "Why TV is Hotter Than Movies", which examined why American TV shows seem to be "outpacing Hollywood when it comes to offering black women starring roles—both in front of the camera and behind it."
The panel featured fellow TV insiders and women of color Misha Green, the creator, writer, and executive producer of WGN America's "Underground"; Jurnee Smollet-Bell, star of "Underground"; and Yara Shahidi, actress on ABC's hit show "Black-ish."
Shaw's comments highlight the importance of refusing to disassociate slavery and race relations from the history of the United States. The failure to acknowledge the brutality of America's slave trade in classrooms has been in the news in the past with several stories revealing the prevalence of whitewashing in American schools.
Last year, a Texas mom posted a screenshot of her teenage son's geography textbook that quickly went viral. It included a map describing immigration patterns to the United States and a caption that said "The Atlantic Slave Trade between the 1500s and 1800s brought millions of workers from Africa to the southern United States to work on agricultural plantations." While the textbook mentions European indentured servants working for "little or no pay," there was no note of the millions of Africans kidnapped and brought to America as slaves.
Commenting on the story, Southern Methodist University history professor Edward Countryman told NPR that including only passing references to slavery and race relations in classrooms does students a disservice. He compared the erasure to "teaching physics and stopping at Newton without bringing in Einstein."
In an 2012 editorial for the Huffington Post, high school teacher Daniel Jocz reaffirmed that "Black history is American history." He advocated against reserving black history lessons for the designated "Black History Month," and urged teachers to include the experiences of African Americans in lessons year round. He offered up the suggestion that teachers, when teaching about The Boston Massacre, "examine why Paul Revere chose to omit African American Crispus Attucks from his powerful piece of colonial propaganda."
Nina Shaw represents some powerful black Hollywood players, including Oscar-Winner Jaimie Foxx, Laurence Fishbourne, James Earl Jones and "Selma" director Ava Duvernay. The New York-native has been vocal about inclusion of minorities and women in Hollywood. When she received the Lincoln Power Award at this year's Essence Black Women in Hollywood event, she delivered a speech encouraging those in attendance to use their power to bring much-needed diversity to Hollywood. "Ask yourself," she said. "Is it okay when your representatives, whom you pay very well, put a team in place to guide your career, [and] that team, no matter its size, might consist of one or maybe two people of color?" She continued:
You are a much more forceful advocate against gender bias and wage inequality if you actually hire women. If you are a white man who advocates for change, then hire someone other than a white man as an example of that change.
The Columbia University Law School alum also gave tips on how to be a strong woman at the panel on Thursday, saying, "If you're a woman and you want to be empowered then you need to empower other women."
After seeing the panel featuring African American women in television, we have to agree with Shaw that inclusion and diversity "is the future of Hollywood."