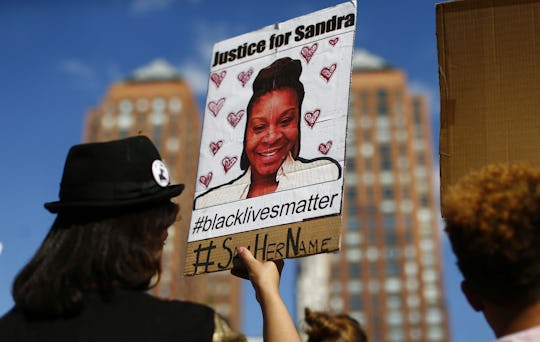 Getty Images
No Charges Filed In Sandra Bland Case, But Supporters Are Still Fighting For Justice
A grand jury has decided there will be no indictments in the case of Sandra Bland, the 28 year old African American woman found dead in her jail cell in Hempstead, Texas. Bland was stopped for not using her turn signal and a dash cam shows Bland becoming confrontational with the officers. They then arrested her for assaulting a public official. The video of the allegedly hostile arrest made the rounds on social media, drawing national attention. Three days after her arrest, officials say that she hanged herself with a plastic bag in her cell, but her family and acquaintances questioned the medical examiner's cause of death.
Bland was from Chicago and placed in holding because she could not pay her $500 bail according to the Associated Press. Darrell Jordan, a special prosecutor, said in a statement tonight that:
After presenting all the evidence as it relates to the death of Sandra Bland, the grand jury did not return an indictment. The grand jury also considered things that occurred at the jail and did not return an indictment.
Waller County's district attorney Elton Mathis also told the media that there was nothing in the evidence that showed that "anything happened but she killed herself."
On social media, supporters of Bland's family dispute the grand jury's ruling:
Bland's case raises the all too familiar questions about the role of force and racial profiling in policing. On the dashcam video, a police officer threatens to "light [her] up" when she becomes confrontational. After deliberating for 11 hours today, the grand jury will reconvene in January to take up any "remaining issues."
Image: Kena Betancur/ Getty Images