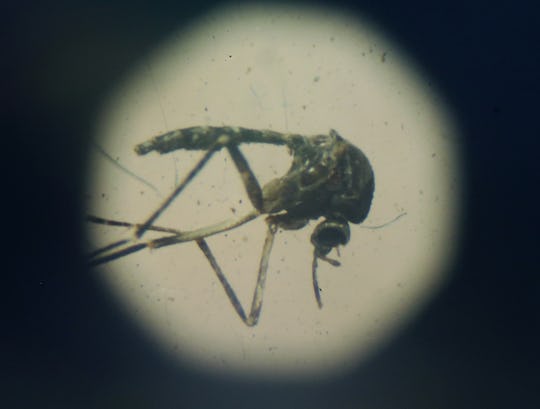 Mario Tama/Getty Images News/Getty Images
No Zika Has Been Detected In Florida In 2017
With the month of May so close, it can only mean that summer is fast approaching. As the weather turns warmer and swimming pools re-open for the season, more time will be spent outside, but that's not a bad thing. But this changing of temperature also brings the return of mosquito season. 2016's mosquito season brought Zika — the virus carried by the aedes aegypti mosquito — into full attention. But those living in Florida can breathe a little easier and enjoy the heat for now. This is because U.S. health officials have reported that no Zika has been detected in Florida in 2017, according to ABC News. So there is no need to panic just yet.
In 2016, Florida and Texas were the only states in the United States to have Zika virus be caught locally, or transmitted by mosquitos. In Florida, the virus was caught by people in a "densely populated community north of downtown Miami," according to the Washington Post and according to ABC News, over 1,000 people were diagnosed with the disease in the state. This year is a little different. Florida health officials have been unable to detect Zika virus in any of the 90,000 sampled mosquitos tested throughout this year, according to the Orlando Sentinel, which is great news. But with so many warm months left in the year, and prime mosquito season yet to hit, there is still time for the virus to make its way back to mosquitos in the United States.
Despite there not being any mosquitos in Florida carrying the disease, according to ABC News, there have been 33 reported cases of people in Florida being diagnosed with Zika in 2017. All of these patients were infected by mosquitos outside of the United States.
Just because Zika is not yet prevalent in mosquitos in Florida doesn't mean that it is still not a threat. According to the Centers for Disease Control and Prevention there is still a risk for Zika in parts of South America, the Pacific Islands, Central America, Mexico, and the Caribbean — and traveling with caution to certain parts of the world, especially for women who are pregnant, is advised. People need to still keep this in mind while planning out their vacations abroad this summer.
As previously stated, it is still so early on in the season and there is plenty of time for Zika to be caught by travelers or make its way stateside through mosquitos. So it's best that people still use precaution and use preventative measures, such as wearing long pants and using bug spray, to protect themselves from mosquito bites. Meanwhile, according to the Miami Herald, a Senate panel approved a bill that authorizes "an additional $100 million in grant funding" to fight Zika, and can now be voted on by full Senate. This extremely helpful funding would go to local mosquito control efforts that test for the virus and improve control programs.
This is sure to be only the beginning of Zika related news for the summer but it's a positive thing to hear.