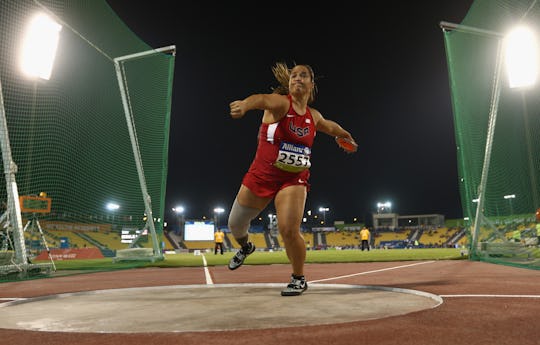 Warren Little/Getty Images Sport/Getty Images
Nobody Tells Natalie Bieule No, & Here's Exactly Why
For many Olympians, their journey to the games starts at a young age. Their parents enroll them in an athletic activity of some sort, an instructor notices their talent, and then they dedicate themselves to training. Sacrifices are made, tears are shed, and injuries are experienced. It's a tale as old as time. But Natalie Bieule's road to the Rio Olympics has been anything but ordinary. For the discus thrower and first-time paralympian hopeful, the road to Rio has been filled with a fare share of bumps.
Unlike her competitors, Bieule's introduction to the discus was one of chance and slight coincidence. After giving birth to her first daughter, Ava, Bieule was looking for an activity that would provide both a physical and mental release. But more than that, she wanted to get involved in a sport that would show she was just as capable as able-bodied athletes. And she found that in CrossFit.
"I wanted to show her that mommy might not have two legs like all the other women you see daily, but mommy's doing more than some women with two legs," Bieule tells me during the Kellogg's '100 Days to Rio' tour. "And then Crossfit became an escape for me. It became about [there being] no limits."
Nobody tells Natalie no. I strongly believe that there's no stopping me.
Bieule quickly excelled at the sport, moving from 12-inch box jumps to 24-inch box jumps in a matter of months. Though the success is due largely to her mental and physical strength, Bieule also credits Ava. Bieule recalls her first competition, where she wondered if she would be able to finish out her final set of burpee box jumps. But a quick look at her daughter helped her push through and place 12th in the competition.
"I just saw her on the sidelines and her eyes were so wide, and I think that's what really motivated me to keep on going," she says. "That reminded me that I'm doing what I have to do. I'm inspiring my girl." Beiule says Ava continues to inspire her and even acts as a secondary coach. While most children expect a toy when their parents come home from a trip, Ava expects her mom to bring home a medal.
"She'll say, 'Where's my medal?' when I come home," Bieule says. "And that's what really drives me to win. The fact that I gotta bring her home a medal. I guess it justified me leaving."
As she found success in Crossfit, Bieule began receiving offers to coach and attend conventions devoted to adaptive athletes. During an 2013 conference, Bieule ran into — or, rather, was pursued by — paralympian April Holmes. According to Latina, Holmes tried recruiting Bieule for team USA, given her strength and cross fit accomplishments. A few days later, Bieule received a call from Cathy Sellers, the head of the United States Olympic Committee, asking if she'd be interested in throwing for the team. Shortly after, Bieule began training with the discus.
Much like with Crossfit, Bieule excelled at the discus due in part to her prior training as a dancer. "Being that I come form a hispanic background, my favorite type of dance is salsa," she says. "Salsa is a lot of hips and turning of the feet, and discus is a lot like that. You've got to know when to twerk your hips, move your hips, and find the rhythm in the throw just like you have to find the rhythm in your feet when you're dancing."
Using her dance skills — and dancing in general — was something many people never though Bieule would be able to do again. After a 2001 car accident led to the amputation of her right leg, doctors told a then 18-year-old Bieule that there was very little chance she'd be active again. Specifically, that she wouldn't be able to dance again.
"It was difficult thing to hear many people tell me that it was going to be impossible. But when they told me I wasn't going to dance again, in the back of my head I was like, 'Don't tell me no.'"
After the accident, which took place in March, Bieule told her father — who doubled as her dance instructor — that she'd be dancing with him by Father's Day. As Bieule tells it, she dedicated herself to physical therapy and locked herself in her room to work on regaining her strength. Three months later, she was dancing with her father, as promised.
"That day is when I realized you're not limited. The only limits you put are the ones you put on yourself," she says. "Nobody tells Natalie no. I strongly believe that there's no stopping me."
And it's that same mentality the pushed her through training for the Olympics while pregnant with her second daughter, Valentina. Bieule found out she was pregnant the day after making the National Track and Field team, which was a fast-track to pursuing her Olympic dream. Not wanting anyone to take the spot she worked so hard for, Bieule enlisted the help of a doctor to ensure the training would not impact the health of her child. She wore a heart rate monitor and toned down her daily workouts to make sure she would be in top shape after her daughter arrived. Of course, doing so did not come without its criticisms.
"I got so many comments and so many judgements," she says. "Obviously if I wasn't feeling well, the baby comes first. [But] I found it so humorous and fun to show people that it doesn't matter if I'm missing a leg, and it doesn't matter if I'm nine months pregnant."
Now, a year and a half later, Bieule is seeing all of her sacrifices and struggles pay off. Later this June, she will compete for a spot on the U.S. Paralympic Track and Field team. If she earns that spot (and, if you look at the standings, she's pretty much a guarantee), she will travel to Rio in September to throw for the gold. And, as if making it to the Paralympics isn't special enough, Bieule would be slated to compete on September 11.
"You can't get more patriotic than that," she says. "I get chills thinking about it. I'm telling you, the big man upstairs works in mysterious ways."
But whether she makes it to Rio or not, Bieule says she only cares about performing her best and proving to herself that she is capable of anything.
"You're gonna have in life a lot of people that doubt, a lot of people that hate, a lot of people that think that you're not capable of doing certain things," she says. "But at the end of the day it's you against you."
And in that arena, Bieule will always comes out on top.