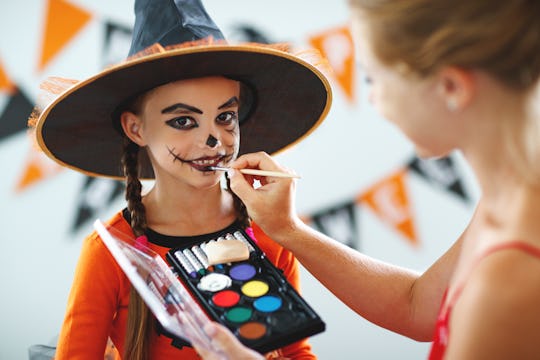 JenkoAtaman/Fotolia
Non-Toxic Halloween Makeup That's Safe For Kids Is Easier To Find Than You Think
Halloween is fast approaching, and for many families, this means going all-out on costumes and cosmetics to achieve the perfect disguise for all of the partying and trick-or-treating. Often that requires quite a bit of either theatrical-style makeup or face paint. As parents, it's your job to scrutinize everything you put on your kids' skin, making sure it's safe and won't irritate their sensitive faces. Whether you're going for a full Marvel cosplay look, or just have a young vampire in need of a little blood, buying non-toxic Halloween makeup for kids can be a daunting process, given all that's available around the holiday.
For the past several years, consumers have become hyper aware of all the possible dangers lurking in fast fashion items like Halloween face paint and makeup. Reports from organizations like the Campaign for Safe Cosmetics found that there has been some truly dangerous ingredients in certain brands of Halloween makeup, such as lead and heavy metals. While the exposure time may be minimal, it doesn't take as much lead or heavy metals as you may assume for your child to start exhibiting symptoms of toxicity, according to Harvard University. Some of these symptoms include tiredness, headaches, vomiting, and eventually delayed physical and mental growth if the exposure continues.
Personally, I can tell you that when makeup and face paint goes wrong, it can go really wrong. When I was 18, I starred in a production of the Rocky Horror Picture Show. One night, I forgot my kit at home. Since the theater was about an hour from my apartment at the time, and the show was going to start in 30 minutes, you can see how this would be a problem. To avert disaster, I headed over to the local Halloween store and picked up a few of their cosmetics and paints and did my makeup as usual. Sure, the coverage was not that of my beloved Ben Nye theatrical kit, but I made it work. Later on in the evening, about two hours in, my face started to itch. By curtain, my face was burning. After meet and greet, my face was on fire. As I washed off the remnants from playing Columbia, I noticed that everywhere I'd used their white or black paints, I had a raised welt on my skin.
Fortunately for our kids, they can escape this fate. There are now myriad manufacturers out there catering to families and children, assuring that their cosmetics and paint are 100 percent safe, making finding non-toxic Halloween makeup for kids that much easier. Companies like Go Green have rich, pigmented face paints that are lead and paraben-free, tested for purity regularly, and produce lovely results. Another favorite is paint and makeup from Blue Squid, which has tons of five-star reviews on Amazon and comes in a range of colors.
If you only need one item — say clown white or fake blood — consider buying a well-known, well-trusted theatrical brand or mainstream brand of cosmetics. A single product can often be purchased inexpensively in sample sizes, perfect for a single application.
Blood is trickier, though. I get it. Maybelline doesn't make a brand of emo vampire cosmetics, but there are theatrical cosmetic brands like Mehron, used by Broadway actors and cosplayers alike, that sell high quality fake blood for a really reasonable price. Mehron's liquid blood is $6 for a full ounce, and what you don't use on your kid on Halloween, you can always use to freak out your partner later on in the year. It helps that it also tastes disgusting if it gets in your mouth, so your kids aren't going to want to chow down like other brands that are highly flavored and highly sketchy.
If you're so inclined, you could definitely DIY your makeup with clays and food dyes. It can turn out really great, but be forewarned, it makes a huge mess in the process. Honestly, it's easier to use some combination of well-known cosmetics brands and boutique face paints than it is to DIY — it just requires a little planning. Amazon is your friend, and so is the sample section. Combined, you can turn your little peanut into a little demon or tiny witch with very limited effort. Happy haunting.