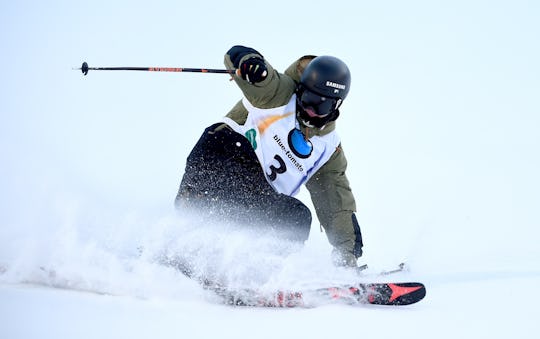 Lars Baron/Getty Images Sport/Getty Images
Norovirus Has Officially Hit The Olympics, & It Could Seriously Affect The Athletes
Well, it happened. We put a ton of people from all over world in one place, bringing all sorts of germs with them, and now, norovirus has officially hit the Olympics and some of the athletes have gotten sick. Who is surprised by this? Because I'm not. But it's still really unfortunate for the athletes who have contracted the virus, who worked hard to get the chance to compete and now might either have to do so while sick, or they might not get the opportunity to compete at all.
Two Swiss freestyle skiers are officially the first athletes confirmed to have contracted norovirus, according to Reuters. The highly contagious virus causes vomiting and diarrhea, which is never fun, but dealing with it at the PyeongChang Winter Games is probably a whole other ballgame for these athletes. I know whenever I'm sick, I just want to stay home and go to bed, and instead, these athletes may still compete in a sport that combines a "breathtaking mix of acrobatic tricks, jumps and sheer adrenaline rush," according to the Olympics website, when all they likely want to do is shut out the world and get some rest, even once they've technically recovered.
But the athletes aren't the only ones dealing with the outbreak. As of Valentine's Day, nearly 200 people had gotten sick at the Winter Games, according to BuzzFeed. Many of those affected have already gotten better, but some actually had to be quarantined, according to a statement by the Korea Centers for Disease Control and Prevention (KCDC).
Before the Olympics even began, officials in South Korea had already confirmed 128 cases of the norovirus stomach bug, Business Insider reported on Feb. 8. Most of the people affected are security staff and Games personnel, and although some of the athletes have definitely been impacted as well, the Swiss Olympic team said they contracted the virus days ago and their symptoms have mostly gone away by now, Reuters reported.
The Swiss team hoped that the affected athletes could potentially still compete, and kudos to them if they do, because that's rough even if they aren't sick any longer. Even if they aren't still physically getting sick, most people take some time to bounce back from a stomach virus. Now imagine skiing just days after an illness like that. It is the Olympics, so I imagine it's worth it to just suck it up, but it's certainly not ideal.
Affected athletes just have to be in "good physical health" to compete, and the two afflicted athletes will need to pass a test conducted by the Swiss medical team before being cleared, according to Business Insider. The International Olympic Committee also has to be "consulted" on the progress of the athletes' health and the tests. The IOC's desire to stay updated makes sense — at one point, approximately 1,200 Winter Olympics staff members had to be quarantined in their rooms, so there's no telling just how much the sickness has the potential to spread.
Speaking of quarantining, Fabian Boesch, a member of the Swiss freestyle team and one of the sick athletes, was "taken to a single room and had no contact with the other athletes," Reuters reported. Initially, Reuters did not name the other athlete as his family members had not been notified, but the BBC claims the other confirmed case of norovirus at the Olympics is Elias Ambuehl.
Unfortunately, although symptoms of norovius usually start around 12 to 48 hours after first exposure to the virus, some people who get infected may have very few symptoms, according to BuzzFeed. So there could potentially be Olympic workers or athletes walking around with the virus who aren't yet aware that they even have it.
If more athletes at the Winter Games do come down with norovirus, the good news is that it shouldn't last long. Dr. Floyd L. Wormley Jr., a professor of immunology and microbiology at the University of Texas at San Antonio, told BuzzFeed News that if you catch the virus, "it will go away on its own so you should feel fine in a few days."
I, for one, will be rooting for any athlete who competes after recovering from being sick, because that takes real commitment. Skiers are already amazing athletes who take on a very dangerous sport, and they deserve our admiration as it is. If they compete after kicking some norovirus butt, they deserve all the awards, even if those awards aren't in the form of an Olympic gold medal.
Check out Romper's new video series, Romper's Doula Diaries:
Watch full episodes of Romper's Doula Diaries on Facebook Watch.