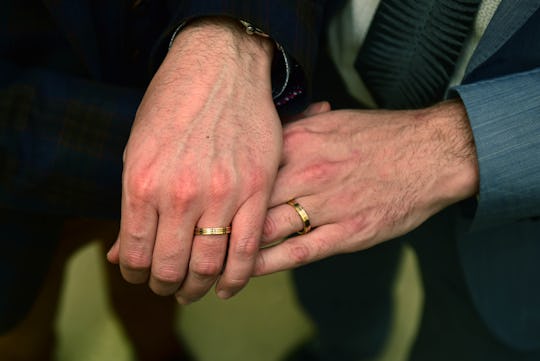 Charles McQuillan/Getty Images News/Getty Images
North Carolina Bill Aims To Ban Gay Marriage
Bringing up a battle that many thought was long over, North Carolina lawmakers are looking to reverse a controversial marriage rights ruling. As it's written, the North Carolina bill would ban gay marriage completely, reversing Supreme Court decisions that, the bill insists, have negated "the clear meaning and understanding of marriage in all societies throughout prior history." The "Uphold Historical Marriage Act," or H.B. 780, claims that "the United States Supreme Court overstepped its constitutional bounds," both in its ruling against North Carolina's Amendment 1 in 2012 and with the Obergefell v. Hodges decision of 2015.
In 2012, North Carolina citizens voted in favor of a measure prohibiting the state from recognizing and/or performing same-sex marriages by 61 percent, but justices ultimately overruled this decision. In 2015, the court ruled to "[require] a State to license a marriage between two people of the same sex and to recognize a marriage between two people of the same sex when their marriage was lawfully licensed and performed out-of-State." H.B. 780 threatens all of these rights for same-sex couples.
In addition to claims that the Supreme Court's decision oversteps the will of the people, the North Carolina bill quotes Christian Scripture in its explanation, insisting that previous rulings overstep "the decree of Almighty God that 'a man shall leave his father and his mother and hold fast to his wife, and they shall become one flesh. (Genesis 2:24, ESV).'" Rendering "marriages between persons of the same gender not valid," the act would void all marriages within North Carolina, regardless of where the actual unions took place. Essentially, if a couple married and raised children in California, but moved to North Carolina together, the parents' marriage would not be recognized by their new home state.
The bill is sponsored by three Republican representatives: Larry Pittman, Michael Speciale, and Carl Ford. The Charlotte Observer notes that these men, who are "some of the House's most conservative legislators," "frequently file bills that don't get a hearing because House GOP leaders don't support the proposals." In the past, attempts to overturn the Supreme Court's decision have all been unsuccessful, so many are estimating that there's no way that this bill will pass.
In response to H.B. 780's proposal, North Carolina Democratic Gov. Roy Cooper tweeted about the measure, insisting: "This bill is wrong. We need more LGBT protections, not fewer." In a state where the rights of LGBTQ citizens are constantly under attack, Cooper's leadership, support, and strong voice of opposition are sorely needed.