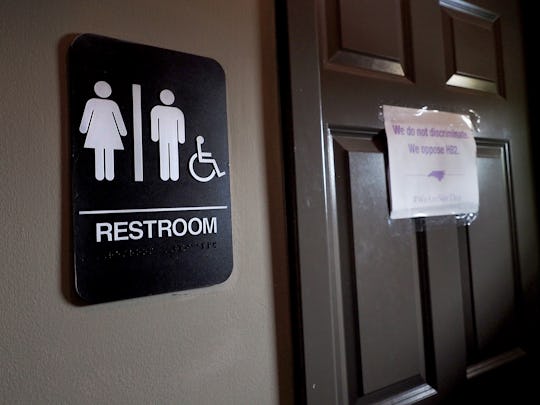 Sara D. Davis/Getty Images News/Getty Images
North Carolina's Bathroom Bill Could Be Blocked, But A Larger Struggle Looms
In March, North Carolina Gov. Pat McCrory signed House Bill 2 into law. The controversial legislation — also known as HB2 or "the bathroom bill" — mandates, among other things, that individuals use public restrooms that correspond to the sex specified on their birth certificate rather than their gender identity. This week, enforcement of parts of North Carolina's bathroom bill might be blocked. If successful, blockage will be a stopgap effort that's part of a larger legal battle to overturn the law.
HB2 is embattled on several fronts. In March, the American Civil Liberties Union (ACLU), along with the ACLU of North Carolina and Lambda Legal groups, filed a lawsuit against the state arguing that HB2 is unconstitutional, according to Reuters. Soon after, in May, the U.S. Department of Education (DOE), along with the U.S. Department of Justice, sued Gov. McCrory, claiming that HB2 violates various civil rights bills. In turn, Gov. McCrory sued the justice department, citing "blatant overreach" of the federal government, according to The Washington Post.
Not to be out-litigated, the conservative group Alliance Defending Freedom then sued the federal government, arguing that it would be unconstitutional for the Department of Education (DOE) to withhold funding from North Carolina public schools and universities as punishment for following HB2—a scenario that became possible after the Fourth Circuit court ruled that it would defer to the DOE's insistence, in their lawsuit against North Carolina, that "a school must treat transgender students consistent with their gender identity."
Yes, these whiplash-inducing lawsuits are labyrinthine. The bottom line is that HB2 was under litigation before the ink had dried, and that's the point of this week's effort to block implementation of the law. On Monday, plaintiffs in a number of suits against HB2 are asking a federal judge in Winston-Salem, North Carolina to suspend implementation of the law until the various lawsuits against it are litigated and resolved.
According to The Charlotte Observer's detailed account of the three-hour hearing, U.S. District Judge Thomas Schroeder asked Gov. McCrory's representatives to address whether the law had any actual purpose, beyond discriminating against women and the LGBT community. Schroeder also expressed concern over the law's secret, 11th hour passage, and wondered whether the law could even be enforced. According to The Observer,
"How does this law make bathrooms and changing facilities safer?" U.S. District Judge Thomas Schroeder asked South Carolina-based attorney Butch Bowers, who represented the governor at the three-hour hearing.
Upon learning that the governor's attorneys had no proof that the bill does make anyone safer, Schroeder expressed further confusion, asking how the bill would be enforced.
"There is no enforcement mechanism of the law," Bowers told him.
"Then why have it?" Schroeder asked.
At the end of the hearing, Schroeder promised that he would try to decide the case in a timely fashion, according to The Observer. If HB2 is blocked, it will bar implementation of the bathroom provision of the bill until the lawsuits against it are decided. HB2, though best-known for its bathroom provision, is actually a wide-sweeping indictment of Civil Rights legislation. It was initially passed as a sort of panicked reaction to the fact that the city of Charlotte had passed a non-discrimination ordinance expanding protections to gay, lesbian, and transgender people.
In a response to the Charlotte ordinance, HB2 dictates that cities and counties in North Carolina cannot require its contractors to not discriminate against employees. There's simply no way to explain this without a double-negative, so to reiterate: HB2 specifies that city contractors can't be required to not discriminate. It's like the opposite of civil rights.
And just to cover all the bases, HB2 also "invalidates all present city and county ordinances protecting LGBT people from discrimination in private employment and public accommodations," according to The Atlantic. In other words, HB2 is the kryptonite of the Civil Rights Act of 1964, hence the federal government's swift and dismayed response to its passage.
Many of the plaintiffs in the ACLU's lawsuit against North Carolina were present at this week's hearing. Among them was 17-year-old Hunter Schafer, a female high school student who had been assigned the sex of male at birth. Speaking to Reuters, Hunter's mother described how HB2 negates what the medical community had told her to do as a parent. "All that we had done right as parents to love and support our kid and everything the medical community was telling us was important to have our teenager thrive in the world ... none of that was considered," she said.
For the sake of the many concerned children, family, and friends who have been swept up in the drama of this totally unnecessary bill, we can only hope that Schroeder holds to his promise to resolve this sooner rather than later.