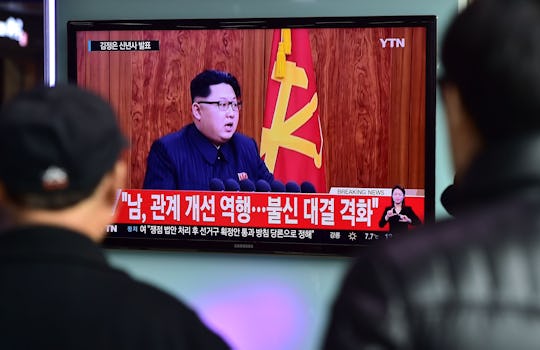 Jung Yeon-je/AFP/Getty Images
North Korea Claims It Tested A Hydrogen Bomb & It's Not The First Time Officials Have Threatened Nuclear Action
In an unsettling announcement on Wednesday, North Korea claimed it had conducted a hydrogen bomb test. Though the claims have since been disputed, pundits are already sounding off on what this could mean for the current state of foreign affairs. Though countries like South Korea and Japan are especially concerned, it's worth noting that North Korea has threatened the United States with nuclear war in the past, adding yet another nation to the list of those keeping a close eye on the predicament.
The announcement drew heavy condemnation from Japanese and South Korean officials, as well as Russia and China — two of North Korea's strongest allies. According to NPR, Russia's foreign ministry has said that if North Korea's tests were genuine, it would be a "flagrant violation of international law" and would aggravate tensions on the Korean peninsula. China, however, made it clear they were a little more perturbed. "China strongly opposes this act," Hua Chunying, a spokeswoman for the Chinese Ministry of Foreign Affairs said at Wednesday's news conference. Chunying also mentioned the effects this test would have on relations at the peninsula. The New York Times reported that this anger stems from an agreement China and North Korea made last fall where China sent a senior official to a parade in North Korea. In exchange, North Korea would step back from nuclear testing.
According to Reuters, North Korean leader Kim Jong Un gave the official order behind Tuesday's detonation, marking the country's fourth nuclear test since 2006. "Let the world look up to [a] strong, self-reliant nuclear-armed state," Kim reportedly wrote in a handwritten note that was broadcast on North Korean state television.
The claims have been met with scrutiny, however. Though the bomb was reportedly detonated at 10 a.m. and corresponded with a magnitude 5.1 seismic event in Sungjibaegam, some have claimed that North Korea lacks the technology to craft a hydrogen bomb. "Unless North Korea has help from outside experts, it is unlikely that it has really achieved a hydrogen/fusion bomb since its last nuclear test just short of three years ago," senior defense analyst Bruce Bennett explained to CNN on Wednesday.
South Korean officials know this sort of North Korean behavior all too well. It seems the two countries correspond on a regular basis — and none of the conversations are positive. Typically, North Korean threats increase during South Korea military training, as the United States is often involved. According to The New York Times, South Korea generally eases tensions by offering aid to North Korea — a country that is considered impoverished — in the hopes that it will stall any potential nuclear weapons testing. Whether it's paranoia or genuine fear of attack, North Korea regularly uses its threats of nuclear war to keep its southern neighbor in check.
On Wednesday, Japanese Prime Minister Shinzo Abe too called the tests a "serious threat." Since Japan is the only nation that has experienced the devastating effects of a nuclear bomb, they are especially concerned that their neighbors — against whom they are in the midst of levying sanctions — may be working on building a weapon as well. "North Korea's nuclear test is a serious threat to our nation's security and absolutely cannot be tolerated," said Abe. "We strongly denounce it [and] will take a firm response, including at the UN Security Council, in cooperation with the United States, South Korea, China and Russia."
While all eyes are on South Korea, the United States and North Korea too have a long history of contention. Many of North Korea's issues with the United States stem from its relationships with allies. For example, Japan was menaced by North Korea in 2013 because they believed the country was working militarily with the United States, and in September 2015, North Korean officials said they were ready to use nuclear weapons at "any time" due to the United States' "extreme hostile policy and nuclear threats towards it."
In August 2015, tensions between North Korea and the United States reached a tipping point, foreshadowing the country's latest announcement. Upset about U.S. and South Korean military exercises, North Korea said in a statement that month that they would "retaliate against the U.S. with tremendous muscle." While officials did not specifically use the term "nuclear bomb", North Korea's National Defense Commission (NDC) hinted that they had the capability to defend themselves.
"The army and people of the DPRK are no longer what they used to be in the past when they had to counter the U.S. nukes with rifles," a Council spokesperson said. "[North Korea] is the invincible power equipped with both [the] latest offensive and defensive means unknown to the world."
Image: Jung Yeon-je/AFP/Getty Images