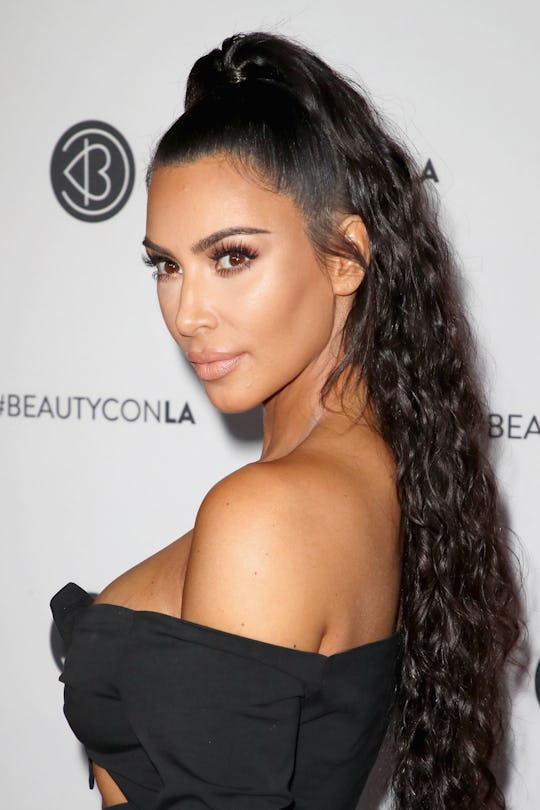 David Livingston/Getty Images Entertainment/Getty Images
North Looks Just Like Baby Chicago In Kim Kardashian's Adorable New Throwback Photo
If there's anything more mesmerizing than watching your favorite celeb's kids grow up, it's looking back on photo ops from the past and being nostalgic for their younger years. Be that as it is, the queen of all things social media decided to grace us with an old photo of herself and her first daughter, and fans began to notice that there's a striking resemblance to a certain someone else. Yes: North looks just like baby Chicago in Kim Kardashian's adorable new throwback photo, and once you see it, you won't be able to unsee it.
On Monday, Kardashian posted an old photo of herself and her oldest daughter in North's nursery when she was just a few months old. The iconic black and white pic features Kardashian on the floor holding her daughter up above her head and leaning in to give her a kiss. "My baby North, you were so small here! You will always be my baby," she wrote in the caption.
Fans were quick to notice that from her profile alone, her little sister Chicago West looks a lot like her. "Thought [that] was Chicago from the side... they are all gorgeous. Kimye make pretty babies... keep them coming," one comment read. "North looks just like Chi!" read another.
Chicago West, who People reported was born to Kim Kardashian and husband Kanye West earlier this year via gestational carrier, has many new siblings and cousins to grow up with. This year, Kardashian's half sister Kylie Jenner also gave birth to a daughter, Stormi, and Khloé Kardashian gave birth to her first daughter, True, as well.
As for how motherhood is treating her, Kardashian says that it "changed" her in a really important way. Us Weekly reported that she posted on Mother's Day this year: "Having kids has changed my soul!! You learn so much about yourself from being a parent and you care more about the world you are raising your kids in."
In the same post, Kardashian also mentioned that she's become more grateful for everything her mom has done for her over the years. "I'm thankful for my mom because she showed me how I want to be a mom," she said. "And as for savoring the small moments together... bedtime. Reading books and snuggling together."
But as the kids grow up, Kardashian has been candid about the challenges of trying to explain to them what fame is, and how to best handle it. InStyle reported that in a recent interview, Kardashian confessed that North West has actually asked her why she is famous, to which she replied: "I was like, OK, I'm going to have to explain this," Kim began, telling her daughter, "We have a TV show. We have a TV show."
But regardless of the laughs, the drama or the tears, Kardashian is clear that she loves her kids no matter what. "I have such unconditional love for my kids. No matter what, I will always love them and support them in anything they choose to do in life. My family was so close growing up; now that I'm a mom, I understand the bond my mom and dad felt with us," E! News reported she wrote on her website last summer. "There can be ups and downs with kids but no matter what, I always learn so much from them. Being a mom is the most important job I have," she concluded.
Be that as it is, she and her sisters are all learning what it really means to balance career, motherhood and life in general, and thankfully, they're documenting it all for us to see.