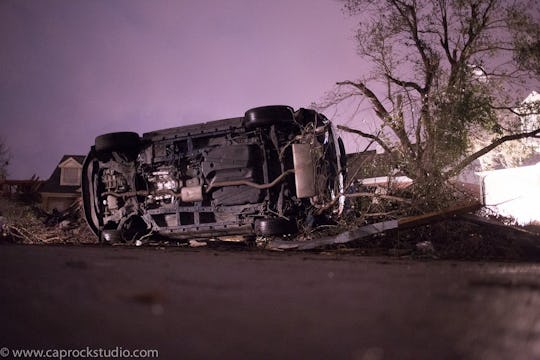 Caprock Studio/Twitter
North Texas Tornado Death Toll Reaches 11, Hundreds Of Homes Destroyed
Officials have confirmed that the North Texas tornado death toll has reached at least 11 people after a deadly tornado outbreak touched down across the Dallas-Fort Worth area Saturday night. Among the dead are an infant child; five people were killed in their vehicles along a stretch of Interstate 30 in Garland, Texas as a series of powerful tornadoes ripped across a 40-mile-long path through four counties. While the National Weather Service hasn't yet confirmed the total number of tornadoes that spawned across north and central Texas on Saturday night, local meteorologists are saying that at least 11 tornadoes touched down as many as seven counties. The Fort Worth office of the National Weather Service currently has two teams on the ground surveying the damage.
Residents in the hardest hit areas of Garland and Rowlett woke up to extensive damage this morning. Officials in Garland are reporting that 600 structures have been damaged in the storm, with single family homes accounting for the largest number of damaged structures. The mayor of Rowlett has declared a state of disaster and a 24-hour curfew has been imposed.
Storm chasers and residents were able to capture a significant amount of photo and video footage of Saturday night's tornadoes:
Initial footage and reports of damage were difficult to ascertain as tornadoes ripped through the area after nightfall.
As the sun rose on Sunday morning, grim pictures of the full extent of the damage began to emerge:
Search and rescue crews have been dispatched throughout the Dallas area to recover residents who may still be trapped in their homes.
UPDATE: According to the Fort Worth office of the National Weather Service, they've given three of the tornadoes that tore through north Texas ratings on the Enhanced Fujita scale. A tornado that touched down in Copeville just east of Lake Lavon was rated an EF-2. The deadly tornado that touched down in nearby Rowlett was rated an EF-3, while the tornado that directly hit the city of Garland has been given a powerful EF-4 rating.
Images: Caprock Studio, Cap00, NWS Fort Worth, Amanda Guerra, Dan Haggerty, Arturo Ortega, Ryan Wood (2)/Twitter; Shawn Devlin, StormChaseMedia/YouTube