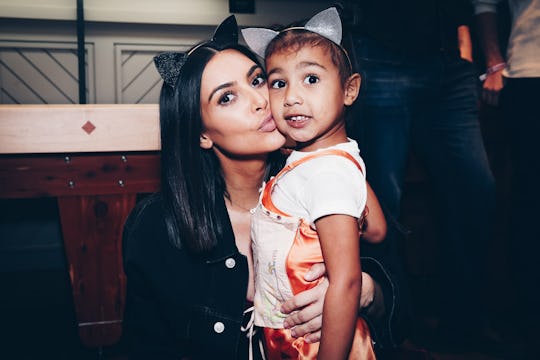 Handout/Getty Images Entertainment/Getty Images
North West Breaking Into Kim Kardashian's Makeup Is Literally Every 5-Year-Old Ever — VIDEO
Kids: They're always watching you. And then eventually they try to copy your every move. If you're like me, your little one will wait until she thinks no one is looking and then pounce. On more than a few occasions, I've caught my daughters grabbing makeup out of my bag and giving themselves interesting makeovers. I'm talking eyeliner all over their faces. Or lipstick all around their mouth — but not on their actual lips. (Hey, they try.) That's probably why Kim K's latest Instagram Story is so darn relatable. Because North West breaking into Kim Kardashian's makeup is literally every 5-year-old ever.
On Tuesday, the KKW Beauty mogul shared a series of videos and photos in her Instagram Story. Among the clips of a KKW Beauty pop-up event and working out with Melissa Alcantara, the busy mom shared a couple videos of North sneaking into her mom's eyeshadow palette, E! News reported. "North, what are you doing with my Mario palette. Turn around," Kardashian says to her daughter, who has her back turned and is concentrated on herself in the mirror. Eventually, the sneaky little girl turns and runs away from her mom because she's been caught red-handed. In another clip, Kardashian has again found her 5-year-old and continues to apprehend the sneak. "Stop it. Hey, that's not how you put on eye shadow," Kardashian continues to "scold" North, after which both of them burst into laughter.
LOL. That is definitely a bold look, North.
For the record, this isn't the first time North West's "expert" makeup skills have been shared on social media. About a two years ago, Kardashian and Kanye West's eldest child could be seen doing her aunt Khloé Kardashian's makeup, according to In Style — on both her nose and her chest. Because you know, you can never have to much "body makeup" (aka lip gloss) on your boobs.
Before anyone freaks out about Kardashian allowing North to use makeup before she even starts kindergarten, let's take a step back. In the past, Kim K has opened up about when she plans to officially allow North to wear makeup — and she's still got a few more years to go, as Cosmopolitan reported. Back in August 2017, Kardashian starred in a YouTube video for makeup artist Desi Perkins. (The tutorial showcased KKW Beauty's latest highlight and powder contour launch, so it was a win-win for the pair.) While they were doing their thing, Perkins brought up the topic of when Kardashian thinks she'd give North the green light on makeup. (Skip to the 3:38 mark in the video, below, to cut to the chase.)
"Probably 12, that's when I started to get into it," Kardashian responded. "And then when I was like 14 my dad got me makeup lessons and they video taped it and showed us how to put on liner and lashes."
Age 12 seems pretty darn reasonable to me — especially coming from a mom who has her own makeup line.
Look, I know Kim Kardashian and North West's lives are basically nothing like mine. But when celebrities share everyday moments on social media, I can't help but feel like we have more in common than what meets the eye. Sure, I may not be billionaire beauty entrepreneur who is married to a famous rapper with my own reality TV show and a massive online following. (Then again, few people are.) However, we're both right here together in the thick of this parenting journey. She has three young children — two girls and one boy, even, just like me. Kim K and I are basically soul sisters. So please keep on sharing your cute (and sometimes naughty) everyday kid moments with the world, Kim Kardashian. Because it's nice to know my kids aren't the only sneaky butts getting into their parents' stuff.