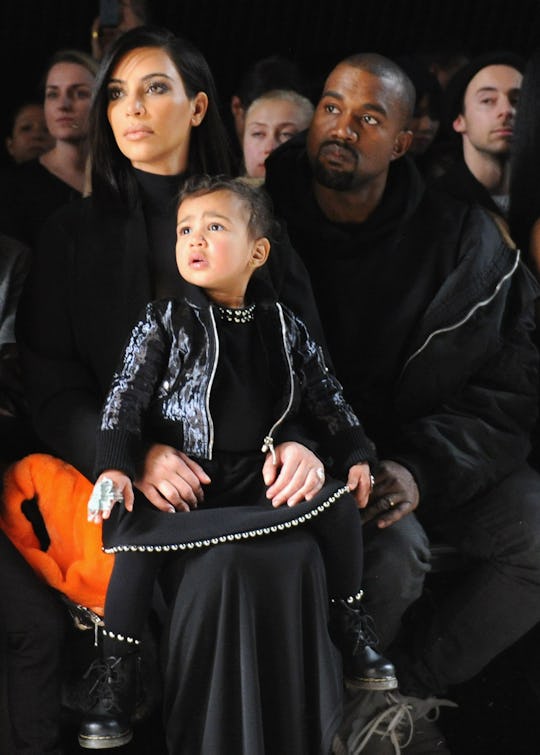 Craig Barritt/Getty Images Entertainment/Getty Images
North West Dressed Up As The Tooth Fairy
It looks like not even Kim Kardashian can escape the mom-life misery of being awoken far too early on a Sunday. In a series of super cute Snapchat clips, Kardashian shared that while she was lying in bed longing for some extra shut-eye, North West dressed up as the tooth fairy, because, why not? According to Us Weekly, the 3-year-old cutie donned fairy wings and a long, white dress with her name written in glitter across the front, and explained to her very tired mother that she "took her tooth out" (because, duh, that's what tooth fairies do, Mom).
Kardashian and North are clearly big fans of Snapchat filters, and in the clips, the duo had fun chatting to the camera using the animal filter, their voices hilariously distorted to match their bunny faces. In one video, Kardashian told her Snapchat followers that she was "so tired" because her children "got up so early," (causing parents around the world to nod in exhausted understanding). And when she then tried to suggest that North go back to sleep so they could all get some extra rest? North (filtered as a little blue bunny) got dramatic with a very sad face, making her mom laugh. The pair then played around with another filter, which made a heart appear out of North's mouth — because what else can you do to buy yourself a little more time in bed when your 3-year-old insists on playing dress-up way too early on the weekend?
Of course, Kardashian isn't the only parent feeling the misery of sleep deprivation this weekend. If you're in a state that marked the beginning of Daylight Saving Time on March 12 and you happen to have kids? Well not only were you subjected to losing an hour of sleep like everyone else, according to TIME, but you probably also had to deal with the added devastation of having to still wake up with little ones who neither knew nor cared about the time change (how dare they?).
In general, the time change is already totally disruptive: according to Reuters, studies have shown that Daylight Saving Time leads to more medical emergencies (a 2014 University of Colorado study found a 25 percent jump in heart attacks on the Monday after the start of Daylight Saving Time), and can lead to more car accidents and collisions. But having young kids who still manage to wake up with boundless energy regardless of your own self-loathing? That just makes it feel worse.
Perhaps the most frustrating part of it all though is that it may actually be all for nothing. Although Daylight Saving Time began in World War II as a way to save energy, according to Forbes (as pushing the sunset back by an hour would theoretically mean people would need less electricity in the hours before they went to bed), studies haven't really found that to be the case.
Until the practice gets abandoned though, the unfortunate news is that we're pretty much stuck with it. So perhaps all we can do is take a page out of Kardashian's book and try to squeeze in some extra lounging time by distracting our kids with our phones before we finally have to accept that we really do have to get out of bed at least an hour before we really want to.