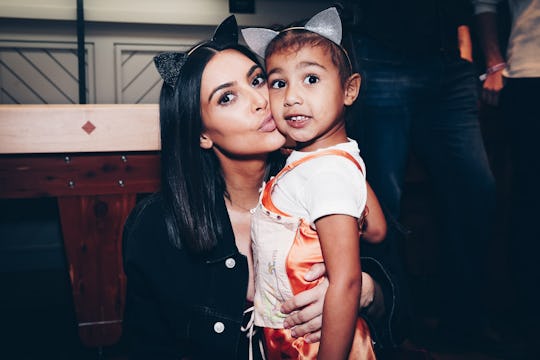 Handout/Getty Images Entertainment/Getty Images
North West Gave Her Mom A Gift After The Paris Robbery, & It Will Def Make You Cry
When Kim Kardashian was robbed in Paris, France, in October 2016, she and her husband Kanye West struggled to break the disturbing news to their family, including their two kids, North West and Saint West. According to Jezebel, in an episode of Keeping Up With The Kardashians, Kardashian and West eventually agreed not to talk about the terrifying incident in front of North and Saint, which made perfect sense at the time given North and Saint's young ages. Well, it turns out Kardashian did end up talking to North about the crime before her most recent trip to Paris, and North's response upon finding out was to give Kardashian an incredibly caring and thoughtful present. That all being said, get the tissues ready, because North's gift to Kim Kardashian after the Paris robbery will definitely make you cry.
In the October issue of Allure, Kardashian opened up about her recent trip to Paris almost a year after the robbery took place. As one might expect, Kardashian was absolutely terrified to visit Paris again, and she even sought out the help of a therapist to calm her fears. Things got so bad, in fact, that Kardashian was convinced that she was going to die in a terrorist attack while abroad, according to Us Weekly.
Amid all the stress and anxiety, however, Kardashian had a tiny anchor helping her to maintain a sense of calm — 4-year-old North. North, who recognized something was wrong, presented Kardashian with a precious gift just days before her trip.
Kardashian explained, according to the Daily Mail:
She gave me a little plastic treasure box, and she put her little jewels in it — like fake little plastic jewels — and she was like, 'Mommy, this will keep you safe when you go to Paris.' To have something really sweet like that is more important to me than all the jewelry.
In an even more moving detail, Kardashian revealed that she now takes the little treasure box everywhere she goes, according to Allure.
Obviously, North's gesture was incredibly sweet and perceptive, but there's something bigger to address in this anecdote, which is that children want to protect their parents as much as parents want to protect their kids. There are so many children in this world who witness their parents going through instances of trauma, whether it be an illness, divorce, or crime, to name a few examples, and it's not uncommon for kids to be a source of comfort for their parents in trying times. Although Kardashian received assurance from a mental health professional, North's innocent gesture of love and "protection" seems to have led her to an even more profound sense of healing.
For longtime fans of Kardashian, her emotional story about North and the treasure chest should come as no surprise. Since the robbery, sources have claimed Kardashian's kids have kept her grounded during her most difficult moments.
An insider reportedly revealed, according to People:
Taking time off after the robbery has really changed Kim. And for the better. She initially was just too shocked and traumatized to deal with anything but her kids. As time went on, she realized that she actually loved her slower life. She feels very grateful that she has been able to spend the past few months just focusing on her kids. Kim thinks they are growing too fast and she has enjoyed spending more quiet time with them.
It goes without saying that Kardashian, as a survivor of a traumatic event, will have to continue work on her mental health throughout the years, and perhaps even for the rest of her life. The good news is she has the support and love of her children to see her through her dark times, and this fact is assuring as it is touching.
Watch Romper's new video series,Romper's DoulaDiaries:
Check out the entire Romper's Doula Diaries series and other videos on Facebook and the Bustle app across Apple TV, Roku, and Amazon Fire TV.