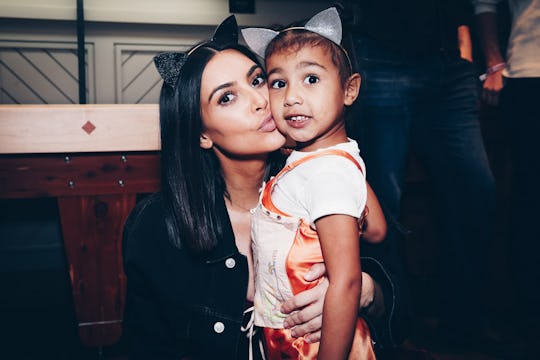 Handout/Getty Images Entertainment/Getty Images
North West's $750 Birthday Gift Will Totally Make You Green With Envy
Being a Kardashian has its perks, especially for the youngest generation. Not only do they get to have some of the coolest and most famous relatives, but they also reap the benefits from their celebrity. Take Kim Kardashian and Kanye West's daughter, North West, for example who is so lucky. At her young age of 4, North is undeniably living the good life. For example, North just got a birthday gift days before turning 5 that is so extra, it will make anyone jealous.
North doesn't turn 5 until the middle of the month (her birthday is on June 15), according to People, but that hasn't stopped her from celebrating a few weeks early. The first celebration of her very important milestone came in the form of two Alexander Wang bags, according to E! News, that are so fancy and fashionable, it would make any adult (and kid) feel a tad envious.
On her Instagram Story on Friday, Kardashian showed off her daughter's very special bags for the whole world to see, gifted to the little girl by the designer himself. "Happy birthday!" the note left by Wang said in the post on Kardashian's Instagram Story. "Every girl needs a lil sparkle...hope you love!" How could North not love the gifts? The little leopard purse and sparkly clutch that Wang sent over would make anyone happy, even Kardashian.
I mean, on her Instagram story, Kardashian said it herself that she wanted to "steal" the bags from North, according to E! News, and you really can't blame her. Those bags are super nice — and if Kardashian brought North into this world five years ago, then she can certainly reward herself for such an accomplishment by sharing her daughter's birthday gifts (with North's permission, of course). These purses beat any doll or trendy toy out there that a 5-year-old might receive for their birthday. Unlike toys, these bags are the kind of gifts that North will want to hang on to forever.
People on Twitter are just an envious of North's early birthday presents, just as Kardashian was, and you can't blame them. The leopard purse pictured in Kardashian's Instagram Story retails for a cool $750, according to People. Nice.
North might only be 4 years old, but she is already proving that she is going to have a lifetime of good birthdays and good birthday gifts. If only everyone could be so lucky.
If North's first birthday present of this year is any indication for how her birthday party will be, then Kardashian fans are in a for a treat. Each year, the Kardashian family has gone all out for North's birthday. Last year, North and her cousin, Penelope Disick, had a joint Moana themed birthday party, according to People, complete with actors dressed in costume to bring the movie to life. The year before that, they had a "mermaid princess" themed party, according to E! News, where the cousins sported their own mermaid tails. And no one can forget North's first birthday party, which was adorably themed "Kidchella," according to Us Weekly. If all of her birthday parties have been this lavish, then this year's birthday party probably won't disappoint.
Although North is only turning 5 in a few days, she's practically a teenager because she easily gets embarrassed by her family members. In a new interview with Entertainment Tonight, North's grandmother, Kris Jenner, revealed that she is already embarrassing her granddaughter. Jenner told the outlet:
Yesterday I took North to school and they had crazy hair day, so I wore a blonde wig — thinking I'd be a cool grandma, you know. North was rolling her eyes, probably mortified that her grandmother wore a blonde wig. It was so funny!
Based on her grandmother's very hilarious story, North is 4 going on 15. But at least she'll be taking on her new year in style, thanks to these snazzy early birthday gifts.