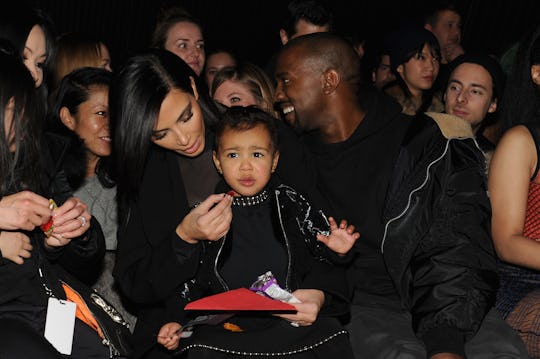 Craig Barritt/Getty Images Entertainment/Getty Images
North West Isn't Afraid Of Snapchat Filters Anymore, & Her Smile In Kim's Snap Is So Cute
Kim Kardashian West only joined Snapchat back in March, but she's already learned to use the app to the full extent of its abilities. Her daughter, 2-year-old North, is also getting an education on the popular social media platform. It's been just over a month, but North has already come a long way in embracing Snapchat — the filters that used to scare her are now making the toddler grin. Kardashian shared photos of North using Snapchat filters Friday, and it's official — North is way too cute, and the tot is definitely having fun.
A Snapchat from Kardashian just over a month ago revealed that the eldest West child was kind of scared of Snapchat's filters. (In all fairness, those filters are more realistic than most of the picture books or movies that scared me as a child, so I feel you, North.) It's a little hard to tell from the toddler talk, but viewers can gather that North is not a fan of Snapchat or its filters. Following that, Kardashian proved her point by sharing an adorable photo of herself and North, who looked suitably terrified of the camera. You'll appreciate the funny picture when you're older, North.
Today, however, North was singing a different tune — it looks like her mom won her over with some of Snapchat's fun, make-up filters. And hey, what's not to like? It's like an instant game of dress-up, and North's big smile seems like a good indication that she was a newly-converted fan.
North might have also been happy to snag some mother-daughter time with Kardashian. According to Life and Style, North was a wee bit jealous of Kardashian's time breastfeeding her second child, Saint. "She would cry so much and try to pull him off me," Kardashian reportedly said in a teaser for Kocktails with Khloé. "She was so jealous she took her little milk box and put it in my bra with the straw sticking out and she wanted to drink while he was drinking."
But now North gets to spend some quality time having Girls' Days with her mother, and experimenting with some Snapchat filters — and this time, she's all smiles.
I have to admit, I really love the picture of North when she's afraid of the camera. But the positive side to all of this? Now that North's a Snapchat convert, I'm sure we'll be seeing a lot more of her — with or without filters.