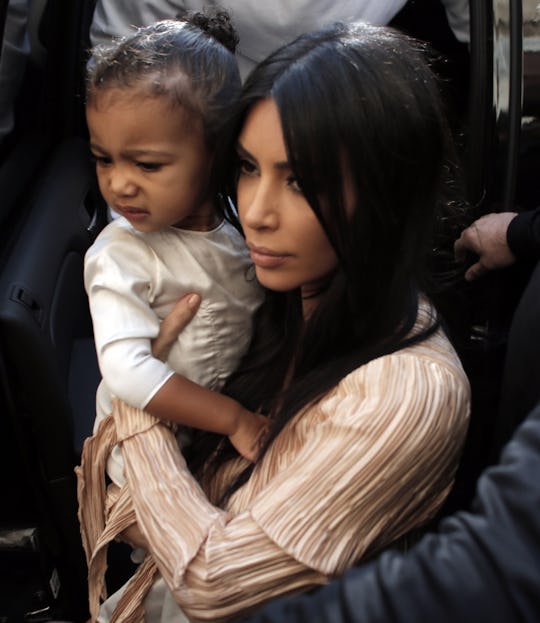 AHMAD GHARABLI/AFP/Getty Images
North West & Kim Kardashian Wear Matching Outfits & Throw Some Shade At Taylor Swift
Being too matchy-matchy with your BFF is hard to pull off, but when it comes to mom and daughter looks, it's easier to get creative. North West and Kim Kardashian's matching silver dresses at Kanye West's concert at Madison Square Garden in New York City this weekend, for example, are pretty much everything matching looks should be, rivaled only by Beyoncé and Blue Ivy's fairy princess gowns at the MTV Video Music Awards this year. Kardashian rocked heels with her Vetements dress, which retails for just over $1,000 if you really want to up your sparkle game, and North's is a custom design from the same label because of course it's a custom design.
In true street style fashion, North rocked a pair of high top baby Vans (because it wouldn't be nice to rub it in that the Yeezy Boosts 350's for kids are already sold out). North accessorized the look with some noise canceling headphones and a lollipop. (She's almost ready for Coachella!) They looked like rock stars, to say the least. The dresses were pretty much identical with a mock turtleneck, an open back, and some long sleeves for the cooler Labor Day weekend air. Let's all remember that New York's Fashion Week kicks off on Wednesday and if this look is any indication, Nori and Kim are going to be killing it all week long (not that anyone expected anything less).
But! The looks weren't just awesome — they might have also been a bit of a snub at none other than Taylor Swift. I know, the drama seems to never end. Swift wore the exact same Vetements dress in a cover shoot for Vogue this past May, just before all of the drama surrounding her approval of the "Famous" lyrics and the video Kim Kardashian released of an alleged phone call between Swift and her husband, Kanye West, took over headlines.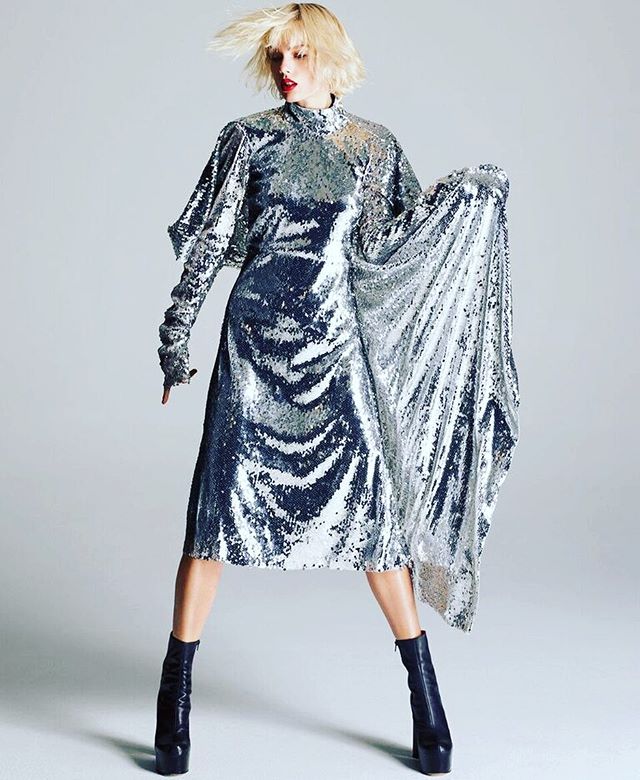 Swift said at the time that the dress and the Vogue shoot was her "favorite cover" that she was able to "be a part of." So it's more than a little suspicious that Kim Kardashian would rock the same exact dress, including a mini version for baby North, to Kanye's concert just a few weeks after the very public feud.
Or not. Or maybe the dress was a little backordered and took some time to commission and ship from France. It doesn't have to be mean spirited, but it is quite the coincidence. In any case, the mom and daughter seemed to be having too much fun to care about anyone else in their sequins. They were likely too busy hob-nobbing with Sarah Jessica Parker, Chris Rock, and Naomi Campbell during the concert and backstage to even notice what social media was buzzing over.