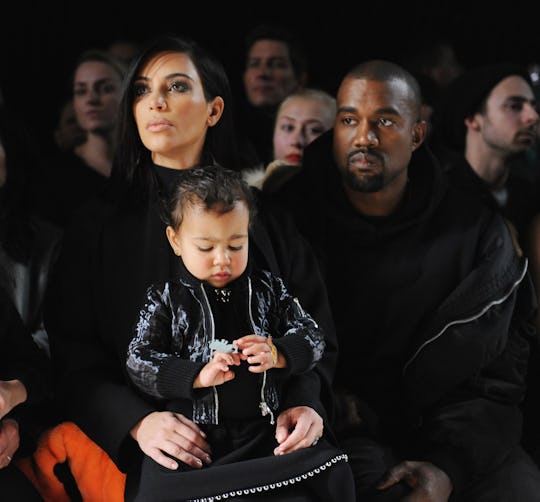 Craig Barritt/Getty Images Entertainment/Getty Images
North West Learned To Ski In Colorado With Kim & Kanye, & Her Outfit Was On Point
Last week, while we were all working, grocery shopping, and doing our laundry, North West, a very rich toddler, was learning how to ski in Vail, Colorado. The lessons came courtesy of her father, rapper Kanye West, her mother, awesome selfie-taker and entrepreneur Kim Kardashian, and a private ski instructor. The event was part of a Kardashian-Jenner-West family vacation, and Us Weekly has exclusive video of North learning how to ski, if you're into that sort of thing.
Also in attendance were North's aunts, Khloé and Kourtney Kardashian; her cousin, Penelope Disick; her grandmother, Kris Jenner; and various pseudo-relatives and hangers-on. Her younger brother, Saint West, was not there because infants don't ski, and honestly, at this point, I'm starting to think that he's actually just an elaborate hoax and not a real human child, after all.
The family has reportedly been skiing since Kim and her sisters were young. On Instagram, Kris Jenner shared a split photo comparison of her daughters and granddaughters in their ski finery, calling attention to the fact that fashion is very, very different now than in was in the 1980s. Also, looking at Throwback Kris, it's a lot easier to understand Selma Blair's casting in The People v. O.J. Simpson.
The family also shared photos of North, who is 2, and Penelope, who is 3, posing with their parents on snowmobiles, which fans can learn more about by venturing to Kim's website.
The Kardashians wouldn't be the Kardashians without an air of controversy, and this trip was no exception. Many fans called out Khloé for what they saw as cultural appropriation after she posted multiple pictures of herself and her nieces with matching braids — including one where Penelope was sporting what looked like "baby hairs." Some fans referred to the braids as cornrows, and took umbrage with Khloé and Penelope wearing their hair in a traditionally black hairstyle. But, clearly, the children are not aware of the social connotations of their hairstyles, and critiques seem a little far-fetched. Even North, who is biracial, still received criticism for her braids after a photo posted by her grandmother revealed that she was wearing hair extensions, something not typically seen on 2-year-olds.
Then again, this is the same baby who sat in the front row of her father's fashion show wearing a bulletproof vest when she was only 1 year old, so it's maybe a little late (and ridiculous) to start calling out the Kardashians for raising kids in a atypical way. Now, the real question is, will North leave that ski lift tag on her coat for the next three months, like all those showoffs in middle school did? Hopefully she enjoyed the trip.