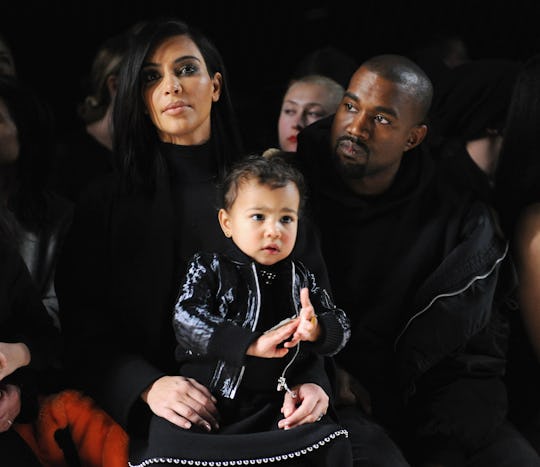 Craig Barritt/Getty Images Entertainment/Getty Images
North West Made The Cutest Dancing Flower Girl At A Wedding For Kim's Friend
North is getting so big! The little daughter of pop culture royalty Kim Kardashian and Kanye West was in a wedding over the weekend and of course her social media maven mama had to share a few images of her baby all dolled up for the night. North West made the cutest dancing flower girl at Kardashian and West's friend's wedding, and video of her will make anyone's day.
First of all, the little 3-year-old North looked too sweet for words. There's just something about a little girl dressed in layers of tulle that will make your heart melt. Her white, fluffy flower girl frock was perfectly accessorized with a purple flower crown and a huge purple bow tied around her waist.
"Wedding vibes today," Kardashian posted to her fans on Snapchat along with the cute videos of her daughter. "Kanye and I are going to a wedding and North is the flower girl. Hopped up for her," she wrote according to Us Magazine.
The giggly little North was apparently accompanied down the aisle by a couple of cute "flower dogs" wearing flower collars that matched North's. Kardashian posted a video of North running around and chasing the doggies, and it's presh.
Check out the Snapchat video from Kim K.
Later in the evening, North threw on a fur jacket, as most 3-year-olds do, and danced the night away along with her cousin and BFF Penelope.
And yes, that's North owning Daft Punk's "Get Lucky."
Kim took the video of North's wedding dance for Snapchat, according to MTV News. Here's another look at North's cute little flower crown, and it looks like she's standing next to Penelope, Kourtney's daughter.
Here's Kim and Kanye on the way to the wedding looking flawless, as usual. But it was definitely the couple's daughter who stole the show.
It's not easy being a flower girl. You have to look good, and stand in the same place for a long time, plus there are all of the after-ceremony reception duties, like eating cake and tearing up the dance floor. But for a 3-year-old it looks like North is off to a very good start in case she's ever interested in becoming some sort of professional flower girl, because little lady's got moves!
And yes, once again, North proves her life, even as a toddler, is more fabulous and glamorous than some people's will ever be. But at least Kim let's us live vicariously through the fab little girl on social media.