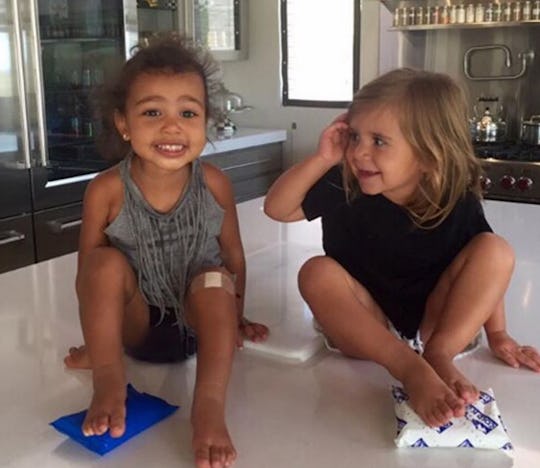 North West & Penelope Disick Are Their Own Squad, & Here Are 5 Ways They Already Embody Our #FriendshipGoals
There's nothing quite like having a best friend forever. And celeb BFFs North West and Penelope Disick are already a squad I wanna be in. Last night, Kim Kardashian posted a pic of North and Penelope chilling by the pool proving yet again that the two toddlers are officially having more fun than you. And they for sure have better closets. Not only are they epitomizing your sweetest wardrobe dreams, these two ladies are besties, through and through. What do they talk about? Do they borrow each other clothes? Do they fight over who gets to play Elsa? Can I go to brunch with them? 
The possibilities are endless for these two. And not just because they are uber-cute, with super famous parents. OK, it's definitely because they are uber-cute with super famous parents. But who cares? Everyone needs a bud and they're lucky to have each other. Especially since they come from the Kardashian clan and are under constant paparazzi surveilance. They should never grow up and wear tutus forever, because it'll be hard to watch them turn into angsty teenagers. Maybe these little ambassadors of Generation Z will take the high road and go matchy-matchy, adjust each other's spaghetti straps, and have each others' back forever. Cross your fingers.
In the meantime, they are the embodiment of #friendshipgoals.
They're Already Style Icons
These two will never live down this now iconic look for dance practice. In fact, the look was so great, even grownups were copying it this year. 
2. They Both Know How To Throw A Party
For Kris Jenner's birthday, the ladies "made" a cake for grandma. And made flower print hands. Jenner apparently, "burst into tears," according to her Insta caption:
I'm not sure how to express my feelings for the best birthday gift ever.... Except to say that in true Kris Jenner fashion, I BURST into tears...... Beyond the best from my two little ballerinas #penelopedisick #northwest#family #grateful #blessed #memories#myheart
3. They Go Hard For Halloween
OMG I can't. Please stop the cuteness. Just kidding — never stop the cuteness.
4. They Hug It Out
Sometimes you don't need to talk to your best friend. And that's why you know it's love. 
5. They Rock Shades Together, Hard
Everyone needs a pal to zone out with and nothing says BFF more than not judging your girl when she's hungover and wearing her shades inside the bagel shop. They're already there. 
Let's hope these two will be friends forever.
Image: Kim Kardashian/Instagram