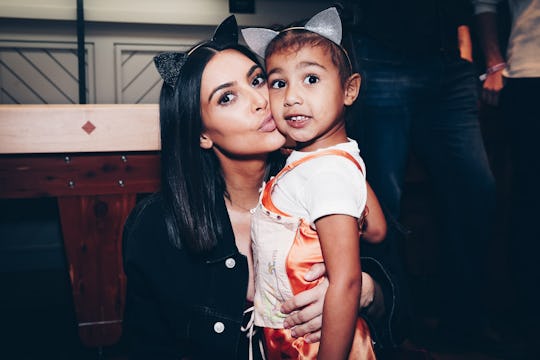 Handout/Getty Images Entertainment/Getty Images
North West & Penelope Disick Had The Best Birthday Party Ever
What is it about being a kid that makes birthday parties the most amazing thing ever? When you're an adult, getting dinner with friends is just about all you can do to celebrate a new year of life. But if it were up to me, I would have my birthday parties Disney princess-themed each year. For now, I'll just have to live vicariously through celebrity children, because North West and Penelope Disick had a Moana themed birthday party, and it was probably 1 million times better than any grown-up steak dinner ever.
The Polynesian-themed Moana was the most recent Disney movie musical to totally infiltrate homes and classrooms everywhere (and subsequently, parents' ears as well) — although, admit it, "You're Welcome" is kind of a bop, and who didn't love "How Far I'll Go"? It was immediately apparent from the North and Penelope's party theme that the cousins are huge fans of Moana, and their love for the film must have been big enough that both of their moms, Kim Kardashian and Kourtney Kardashian, saw a real need to, you know, completely transform a backyard into an island oasis and bring the animated film to life. (Jealous.)
According to E! News, actors were hired to portray characters from the movie, Moana and Maui, and guests even dressed in Polynesian-themed attire as well. Pictures from the party are enough to make any kid or adult envious of the young girls' birthday bash:
Celebrity guests feasted on kid-friendly and delicious birthday party food — mac and cheese, ribs, shaved ice — and the most incredible looking Moana themed birthday cakes. The party wasn't short on activities, either. According to People, there was a pig petting zoo at the party, as well as a bouncy house. And on top of all that, the two girls got even better birthday presents: their own Pomeranian puppies, gifted earlier in the month.
North celebrated her fourth birthday earlier on June 15 with a smaller party of her own at Chuck. E. Cheese. But this Moana-themed party was a joint birthday party for the two cousins, as they're both close in age (Penelope turns 5 on July 8). This is the second year that the two have had a joint Disney themed birthday bash; Last year, the girls had a Little Mermaid-themed party that looked just as incredible as this year's party (even Ariel herself was a party guest).
At this point it's safe to assume fans and onlookers alike can't wait to see how the families will top this party next year.