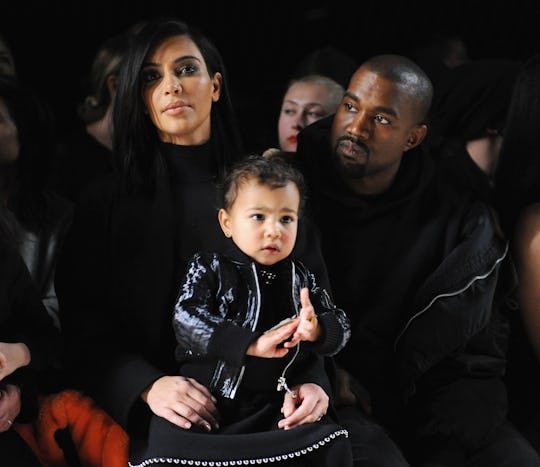 North West Picked A Name For Her New Sibling, But Here Are Some Other Options
If you've been keeping up with the Kardashians (ha! pun intended), you'll know that Kim Kardashian, who is pregnant with her second child with Kanye West, is due to deliver a baby boy in just a few weeks. Given the couple's interesting taste in names — they named their daughter North West after all — we can't help but wonder: what are Kanye and Kim they going to call their baby boy? In an exclusive interview with People, she revealed that although she doesn't know yet, her daughter North West already has a baby name picked out — and it's hilarious.
"[We ask her], 'What should we name baby brother?' [She says], 'Baby brother!'" the reality star said.
Leave it up to a toddler to state the obvious and then turn it into a name. But hey, at least it's simple and to-the-point, right?
According to the interview, it looks like North isn't the only toddler who's been giving Kim and Kanye some baby-naming ideas. "[My nephew Mason and niece Penelope] come up with different names all the time. I think it's so funny," said Kim.
Apparently, Kim and Kanye are procrastinators when it comes to the baby-naming process. "It's like the last thing that Kanye and I did when North was born," Kim said. "We didn't name her for like seven days. I feel like it will just come to us."
Kim, if you're really having trouble choosing a name, consider the following:
"boy" (lowercase)
The couple could keep it really simple by choosing this name. And the lowercase b kind of it gives it an edge.
"Yeezus"
In honor of Kanye's sixth studio album — duh.
"Jesus Ara"
According to Nameberry, Ara, which means "king" in Armenian, is "one of the most melodious in the Armenian name pool." Since Kim's late father was of Armenian heritage, this would be a nice nod to him. And combined with Jesus (who Kanye likens himself to in regard to the music world), it's a very grand, royal name the couple would appreciate.
Eyknak (Kanye backwards)
We all know how much Kanye loves Kanye, so we could totally picture him giving his son his first name — just with the name spelled backwards.
"East"
Since the couple already has two directions covered, East would be a fitting name for North's baby brother. South West just doesn't have the same ring to it.
"Easton"
Easton has been a favorite among Kimye fans for months. East-n-West, get it?
Images: Craig Barritt/Getty Images Entertainment; kimkardashian/Instagram; Giphy (1, 2, 3, 4, 5, 6)