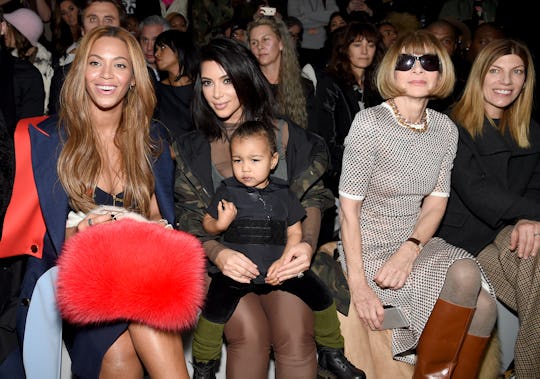 Dimitrios Kambouris/Getty Images Entertainment/Getty Images
North West Turned 4 At Chuck E. Cheese's
When you're the daughter of Kim Kardashian and Kanye West, it seems pretty safe to say that you could request the biggest, most over-the-top birthday party and it wouldn't be at all unreasonable to think that it could actually materialize. Ponies? Princesses? Mermaids? A life-size cake in the shape of your own face? I mean, the possibilities are endless. But despite her celebrity pedigree — and because it seems like there really isn't much that 4-year-olds find cooler than overpriced pizza, arcade games, and a dancing mouse — North West went to Chuck E. Cheese's for her birthday. And whether it's childhood nostalgia or just the amazing mental image of Kardashian and West playing Skee-Ball and drinking fountain soda, Twitter was loving North's low-key birthday request.
According to The Daily Mail, North was joined by her famous family at the popular kid-friendly chain, where the group helped celebrate her 4th birthday on Thursday. In a Snapchat post shared by her aunt, Khloe Kardashian, North could be seen preparing to blow out out the candles on her purple frosting and sprinkle-laden cake — complete with four candles, and two small Chuck E. Cheese's figurines (why choose an elaborate, multi-tiered masterpiece when a sugary sheet cake probably tastes so much better?).
According to People, North's Chuck E. Cheese's party probably won't be the only bash she'll get to enjoy — another party is set to be taking place at the family's home, and since it will also be filmed for an upcoming episode of Keeping Up With The Kardashians, chances are good it'll be decidedly fancier than Thursday's celebration. But even if the Chuck E. Cheese's celebration wasn't deemed KUWTK-worthy, judging by the reactions on Twitter, it's clear that fans were loving that it even happened in the first place:
Kim opted out of sharing pics from the party itself, but she did post a sweet tribute to her daughter on Instagram, where she shared a photo of the two of them together, along with the caption,
My baby girl turned 4 years old today! She's my light & my everything!!! I love you to the moon & back North
Kim also posted a video to her website and app in honor of North's 4th birthday, according to E! News, featuring Snapchat footage of the two of them together. In one clip, Kim told North that she was "not going to get any bigger," because she wanted her "to stay little forever" (a request the little girl seemed happy to agree to). And in another sweet clip, North could be seen telling Kim how much she loved her, and agreeing that she would still be nice to her mom when she's big, and that she'll live with her forever (honestly, is there anything more heart-wrenching than the realization that your little, tiny baby has somehow turned into a big girl? I don't think so).
A number of North's relatives also followed suit with social media birthday messages of their own. Kourtney Kardashian took to Instagram Thursday to wish her "Northie angel slumber party unicorn mermaid girl" a happy birthday, while Kylie Jenner shared a pic of a smiling North sitting in a Range Rover wearing ballet slippers.
Kardashian matriarch Kris Jenner also made a point to give her granddaughter a loving shout-out on Instagram Thursday, and posted a photo collage of North and a sweet caption. She wrote,
Happy birthday to our beautiful, funny, smart little love bug, North. You bring so much light to our lives and I am blessed beyond words to have you as my granddaughter. It brings me so much joy to watch you grow up to be sweet and kind and loving... I love you so much my precious angel girl...Lovey xo
Let's be honest: of all the places you'd expect to see the Kardashian clan celebrating a birthday, Chuck E. Cheese's probably isn't one of them. But the fact that it's so unexpected is part of the reason why it's so awesome — the only logical explanation seems to be that North just wanted to go to Chuck E. Cheese's for her birthday, and how could they possibly say no to that? There may not usually be a lot of overlap between the lives of Kimye and that of the rest of the world, but when it comes to being parents, it seems there are at least some aspects that are almost universally relatable.