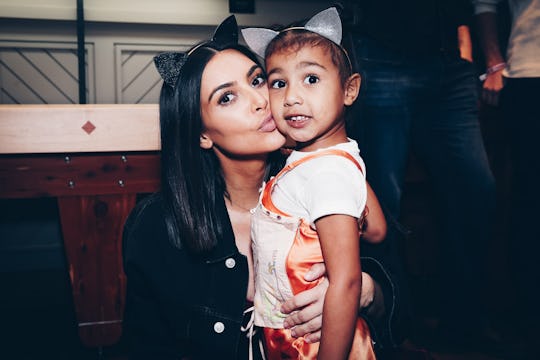 Handout/Getty Images Entertainment/Getty Images
North West's Quotes About Being A Big Sister Show She Takes Her Job Seriously
It seems like just yesterday that the devoted Kardashian fanbase was collectively freaking the heck out over the birth of Kim Kardashian and Kanye West first child, North West. But little North is no baby anymore — she's a 4-year-old trendsetter and a big sister to her almost 2-year-old brother, Saint. What's more, the whole family is getting ready to welcome its newest member — reportedly via surrogate — sometime very soon. As the it-girl of the under-5 set, how does North feel about having little siblings? Well, she's 4, so her opinions probably change about every five minutes or so. Still, these North West's quotes about being a big sister show that she loves her brothers and sisters, but is still getting used to sharing her parents with them, too.
Kim and Kanye's next son or daughter reportedly isn't the only baby on the way in the Kardashian/Jenner empire. Kardashian's sister Khloe Kardashian and Kylie Jenner are reportedly both expecting as well, although neither has officially confirmed the news. Neither of their reps have responded to Romper's request for comment, either.
Considering that America's favorite reality TV family is notoriously close, that means North is about to have a lot more babies in her life. I have no doubt that she'll adapt to the changes beautifully (especially as she grows older and matures), but it's fun nonetheless to go back and look at what she's had to say about being a big sister to Saint since he was born in December 2015.
On Waiting To Meet The New Baby
Shortly before Saint came into the world at the end of 2015, Kim revealed that he daughter couldn't wait to meet him. In fact, according to E! News, the then-2-year-old was so excited that she was even trying to interact with her brother while he was still in their mom's tummy, as Kardashian described:
We talk about baby brother all the time. She's so sweet and yesterday she said, 'Mommy, can I give baby brother a kiss on your tummy?' and she kissed my stomach. She's super sweet.
On The Sibling Bond
In early January 2016, Kardashian posted a heart-melting Instagram photo of Saint's hand curled around North's finger. The caption? "She said, 'He's my best friend.'"
On Loving Saint A LOT
Later that month, North's aunt Khloe shared on Good Morning America that North was so in love with her new baby brother — but only in the best possible way. "North is obsessed with him," Khloe said, according to Us Weekly. "North will say, 'My name is Saint!' She wants her name to be Saint now."
But Having A New Sibling Can Be Hard, Too
Everything can't be puppies and rainbows forever. In a July 2016 interview with Elle magazine, Kim indicated that North may be experiencing some missteps in adjusting to life as one of two siblings:
I like to bring her in to say "good morning." She still wants things to be all about her, because she's 3! But planting that seed every morning that the day starts with you and your brother, that's how I've been doing it. And she's getting so much better. I can't wait until they can really start communicating—although once he's big enough to start grabbing her toys, we'll have to get involved in a different way.
It's no surprise that the honeymoon stage came to an end, and Kim's strategy of encouraging the two to bond seems like a good one to me.
The Jealousy Persists
North's jealousy is totally understandable — she's just a little kid! But it does seem as though the emotion got pretty intense for North, as Kim shared in an anecdote on The Ellen DeGeneres Show in April, according to The Mirror:
I can't hold him. I had to stop breastfeeding him. When I was breastfeeding him, she was so jealous I had to get a little milk box and put it in the other bra with a straw so she could drink and he could drink.
Always A Big Sister
Inevitably, it would come time for North to answer interview questions herself. In August 2017, Kaia Gerber asked her what the best thing about having a little brother was. And North's answer was adorable:
Giving him toy trucks, and I gave him a big toy bear.
"She Does Not Like Her Brother"
Maybe those presents didn't mean pure affection, though. While cohosting Live with Kelly and Ryan recently, Kim admitted that North is still not a huge Saint fan, according to The New York Daily News:
I don't know if it's because she's the older sister. I don't know what it is. I thought it was a phase. She does not like her brother and it's so hard for me.
Progress!
Chances are, it won't be like this forever. In a video segment on her app in October, Kim shared that North's opinion of her brother is certainly improving, as People magazine reported:
She needs to still get it together and warm up and be a little bit nicer, but I think she's getting there. I saw glimmers of hope a week ago. She's not harmful, she's not hurting him or anything. She just doesn't want boys in her room.
For North, another big change is on the way as her family prepares for baby No. 3. She's obviously learned a lot about being a big sister so far, which makes it all the more likely that she'll continue to learn to be the best one she can be.
Watch Romper's new video series, Romper's Doula Diaries:
Check out the entire Romper's Doula Diaries series and other videos on Facebook and the Bustle app across Apple TV, Roku, and Amazon Fire TV.