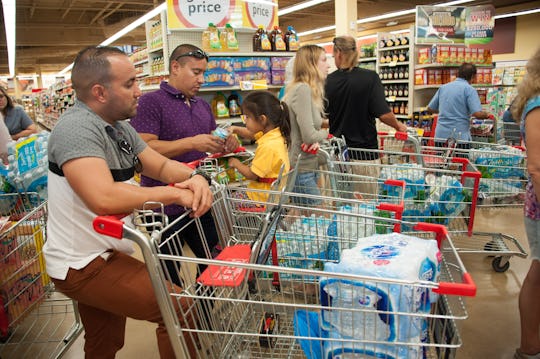 MICHELE EVE SANDBERG/AFP/Getty Images
Not Every Family Can Evacuate Before Hurricane Irma Hits, & Here's Why
Hurricane Irma has roared through much of the French Caribbean and Puerto Rico. As a Category 5 storm, it has already been declared the strongest Atlantic storm on record, and its catastrophic destruction is far from over. Florida Gov. Rick Scott has ordered mandatory evacuations across the Sunshine State, where the hurricane's anticipated path is expected to affect the entire state, with its eastern coast most vulnerable. Despite the dire and valid warnings to get out of the storm's deadly path, not every family can evacuate ahead of Hurricane Irma — and here's why.
Despite mandatory evacuation orders for the Florida Keys and parts of Broward and Miami-Dade Counties, some families are choosing to remain to ride out Hurricane Irma. While it might seem like a no-brainer for families to quickly get out of the path of such a monster storm, the reality is that not every family will, or can, for that matter. Take for example, Florida's more than 67,000 homeless individuals: Miami outreach workers have been trying to get its city's more than 1,100 homeless into shelters ahead of Hurricane Irma, anticipated to make landfall over Florida this weekend. But it's not just the homeless who may not have the ability to flee Irma's wrath, either.
People with disabilities and the elderly often are stuck in the path of danger simply because they may not have the physical ability to leave their homes, or they might not even have anyone who can help them leave. Groups like Portlight help people with disabilities in post-disaster situations, as they did with Hurricane Harvey in Texas.
There are also low-income families who cannot afford to evacuate. Believe it or not, it's possible to be fired from your job if you don't show up to work due to a hurricane: Florida is an at-will state. While it seems unthinkable that businesses would remain open during a hurricane, some do — and for families living paycheck to paycheck, they simply can't afford to leave because they don't have the financial means to do so. If someone doesn't have family or friends with whom to stay, the costs of gas, hotels, and meals add up. And forget about flying: Not only are flight cancelations mounting, some airlines were reportedly jacking up the price of airfare ahead of Irma.
Then there are those who remain in the face of the storm because they have to help out those who couldn't leave: The emergency responders, doctors, nurses, utility workers. "Look for the helpers," Mr. Rogers told us as kids — and even in the monstrous danger of Hurricane Irma, there will be plenty of brave individuals who have to stay because their jobs are essential during and in the immediate aftermath of the storm.
All of this is to say that despite what could be the biggest mass evacuation in U.S. history, there will be many families who can't evacuate from Hurricane Irma. They don't deserve our scorn, ire, or shaming — but they will definitely need our help once the storm passes.