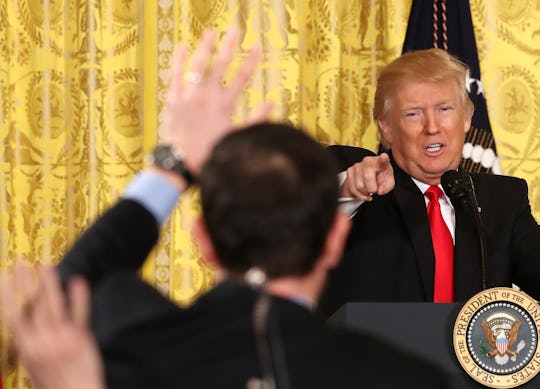 Mark Wilson/Getty Images News/Getty Images
Twitter Shows Trump Why The Media Is #NotTheEnemy
Throughout his campaign and less than a month in the Oval Office, President Donald Trump has repeatedly attacked the media. On Friday, he took his criticism to a new level in a tweet when he branded the press as the "enemy of the American people." But Twitter was not having any of it and took to the social media platform to prove exactly why journalists have to do their jobs. Trending on Saturday, these powerful #NotTheEnemy tweets in response to Trump perfectly explain why the media is not the bad guy in this scenario.
Friday certainly wasn't the first time Trump called several major news organizations as "FAKE NEWS." It was a signature phrase from his presidential campaign, so at this point the press is used to this tense relationship with the president. But what really got Twitter users rightfully enraged was that he called the media "not [his] enemy" but "the enemy of the American people!"
Many Twitter users responded with examples that prove just how important and dangerous a journalist's job can be. They remembered the many journalists who have been killed while covering stories, such as American journalist James Foley who was beheaded by ISIS while reporting on the devastating Syrian war and photographer William Biggart who was killed while covering the 9/11 terrorist attacks. Many also pointed that some of the most iconic investigations led by journalists have had a positive impact on the world.
Here's a sampling of the most powerful responses:
Following Trump's tweet on Friday, many pointed out a chilling similarity between Trump's relationship with the press and some of history's worst tyrants. The leader of the free world using the word "enemy" to describe the press "raises unavoidable echoes of some of history's most murderous dictators," like Soviet leader Joseph Stalin and Chinese communist leader Chairman Mao, according to the BBC.
"Charming that our uneducated President manages to channel the words of Stalin and fails to hear the historical resonance of this phrase," Mitchell Orenstein, a professor of Russian and East European studies at the University of Pennsylvania, tweeted in response to Trump's comment on Friday.
It's important to note that Trump is not the first U.S. president to label the press as "the enemy" and those who had hostile relations with the press before Trump — think of President Richard Nixon who was brought down by the Watergate scandal — did not exactly prevail.
Carl Bernstein, whose reporting with Bob Woodward on the Watergate scandal that led to Nixon's resignation, tweeted a jarring reminder in response to Trump: "The most dangerous 'enemy of the people' is presidential lying - always. Attacks on press by Donald Trump more treacherous than Nixon's."
Although this type of relationship is not unprecedented, it is a startling reality for modern day American politics. The press has a responsibility to hold people accountable for their actions and, in a Trump presidency, uncovering the truth behind "alternative facts." Journalists knew they had their work cut out for them when Trump was sworn in last month and it will certainly be a busy four years, but if history has taught us anything it's that truth will always prevail — even if it's a tough fight.