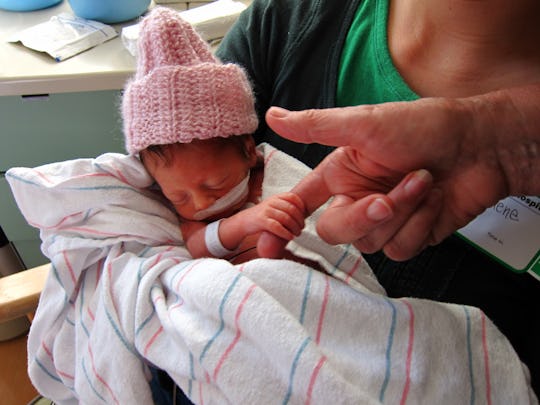 bradleyolin/Flickr
November 17 Is World Prematurity Day, & Every Year It Gets Harder For Me To Celebrate
You'd be forgiven for not knowing that November 17 is World Prematurity Day. Even though prematurity is the leading cause of death in children under 5, and even though more than one in 10 babies worldwide are born premature (with over 1 million babies dying from prematurity-related complications every year), unless it's happened to you or someone you know it's probably not something on your radar. After all, most women have healthy, happy pregnancies, and who wants to worry unnecessarily? Hell, I was born prematurely and it still meant almost nothing to me until my own twins were born at 25 weeks gestation. To be honest, prematurity is kind of a buzz kill. So mostly we just cross our fingers and hope everything will be fine.
Until, for some of us, it isn't.
My twins, Reid and Madeleine, will be 3 in December, making this our third World Prematurity Day together. I'd recently begun seeing preemie-related Facebook and Twitter updates from fellow preemie parents I know — new profile pictures to reflect the upcoming event, messages and photos of their formerly-tiny children, most of whom are now active, rambunctious toddlers. I mostly avoided them. I avoided reading the news stories forwarded my way from well-intentioned family and friends. I avoided looking at the NICU photos other parents were sharing to celebrate how far their children had come. I mostly just wanted to not think about prematurity at all.
The weight of that experience hangs heavy on me now, and I struggle greatly with memories and flashbacks and unresolved fears. But it wasn't always like that. Our first World Prematurity Day, back in 2013, was a pretty hopeful day. The twins were 11 months old (but still only 8 months corrected), and the day felt pretty hopeful — like a milestone that marked both how far we'd come in the past year, as well as what we hoped our life would look like in the future. There was still so much we didn't know about how things were going to turn out, whether there'd be developmental issues, or physical issues, or daunting diagnoses. So we read all the stories and liked and retweeted and commented and shared. We wanted to hear as much as possible about all of the kids who beat the odds, who overcame their difficult start to become happy, thriving children. We needed to hear that.
The next year felt a world away. The twins were almost 2, and were running and walking and climbing and jumping. We knew that their progress had surpassed even what we had hoped for, and all of their doctors and therapists and specialists were telling us they were doing great. It felt like we'd made it, like we'd reached the point that we could only dream about when we were scared parents in the NICU who felt like they'd never take their babies home. I'd begun volunteering at the hospital the twins were born in, trying to support other mothers there by talking to them about life "on the outside". I'd even attended a World Prematurity Day event, and written about how being a preemie parent had changed me for the better. I was sure that we'd moved on. That it was all behind us, and that that's where it would stay.
But I was wrong. I was really wrong. Over the past year, the delayed emotional fallout surrounding Madeleine and Reid's birth and hospitalization finally hit, settling in like a thick, miserable fog destined to somehow destroy me. I started feeling anxious, started dreading medical appointments (even though I knew the news would be good), started to be unable to hear about or look at anything that had to do with prematurity or pregnancy or anything at all to do with babies.
I am still struggling, and I'm not sure when it will let up. So this year, I was determined to avoid World Prematurity Day.
But I don't want to avoid it, not really. Because World Prematurity Day is important — not just for awareness, but for celebration. For all of the babies and families who made it through, even if they have, like me, come out on the other end completely battered and bruised from the experience. The day wholly bittersweet for me: a reminder of everything that was awful and heartbreaking and scary, while also a reminder of the thing that brought my children into the world. Today is also a way to honor the families whose children didn't come home like Madeleine and Reid did; all of the babies around the world who arrived too soon but left too soon as well, because prematurity is awful and in some ways preventable, and there needs to be room for those conversations too.
Recently, Madeleine began taking interest in a baby doll we'd had for ages but had been largely ignored. She wanted to put some clothes on it, but we didn't have any doll clothes, so I brought her upstairs and dug out a small box of preemie clothes — the only baby clothes I've held on to. I picked out a onesie and one of Madeleine's tiny preemie hats and watched as she rummaged through the box of clothes, pointing out details of all the outfits that were so much more than just clothes to me — the sleeper with strawberries on it that came with a matching strawberry hat; the yellow striped onesie that had a zipper up the front that we'd have to leave undone slightly to accommodate the monitor wires; the heart onesie that she wore when she finally came home. And now here was the same little girl, except much bigger now, looking at the clothes as though they'd never been hers, not understanding even slightly how much they meant to me. But I knew. I'll never forget. And maybe that's exactly how it's supposed to be.
Images:  bradleyolin/Flickr; Katie Cottrell; Alana Romain