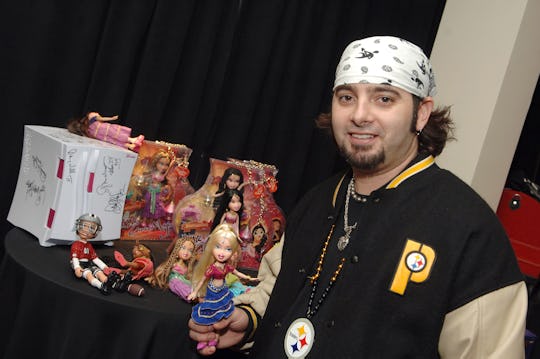 Theo Wargo/Getty Images Sport/Getty Images
Chris Kirkpatrick & Karly Skladany Expecting 1st Child
Gone are the days of restful nights. Somewhere, someday, a full night's sleep will come back. But for the next 18 years, another *NYSNC alum will say bye, bye, bye to peace and quiet. Chris Kirkpatrick and Karly Skladany are expecting their first child and now there's gonna be three.
Kirkpatrick and Skladany will welcome their little one in October, according to People, which scooped the baby news. The oldest *NSYNC alum also took to Twitter Friday morning to share with fans that the Kirkpatrick-Skladany family is expanding.
Of course, it had to be in the geekiest but most adorable way. Attached to Kirkpatrick's tweet is a Photoshopped image of the couple gazing, hands at their chins, at a poster for the animated film, The Boss Baby. The ad, affixed on a subway billboard in New York City, read "Baby Kirkpatrick. Coming October 2017." Clever, you two.
Kirkpatrick and Skladany, 33, are not short on excitement about this life change. The 45-year-old singer, dancer and actor told People:
Karly and I are over the moon excited that we are welcoming a new addition to the family. We are both looking forward to becoming parents, and learning how much fun having a child will be.
According to Today, Kirkpatrick and Skladany have wanted to have kids since they became married in November 2013. Kirkpatrick told People at the time that the couple were "definitely ready to have children." "So we're going to do that," he said three years ago.
Kirkpatrick and Skladany, 33, got married at an Italian-themed Loews Hotel in Orlando, Florida, in front of several hundred people. The two became engaged in 2012 after Kirkpatrick, who runs the Chris Kirkpatrick Foundation, proposed on a hotel balcony in Italy that overlooked the Mediterranean, according to People. Kirkpatrick's former *NSYNC bandmates, Justin Timberlake, J.C. Chasez, Lance Bass, and Joey Fatone, attended the wedding as Kirkpatrick's groomsmen, according to US Weekly.
Kirkpatrick isn't the only one in the *NSYNC bunch to add "dad" to their list of accomplishments. Timberlake and actor Jessica Biel, who married in 2012, welcomed their first son, Silas Randall Timberlake, in April 2015, according to People. Silas was named after Timberlake's maternal grandfather, Bill Bomar, who passed away the year Biel and the 36-year-old *NSYNC alum were married.
Timberlake's mother, Lynn Harless, called Silas "the most precious gift in the world" when she announced the arrival of her grandson on Facebook. "Life is beautiful and we couldn't be happier," she wrote.
(By the way, I'm not apologizing for any of my *NSYNC puns.)