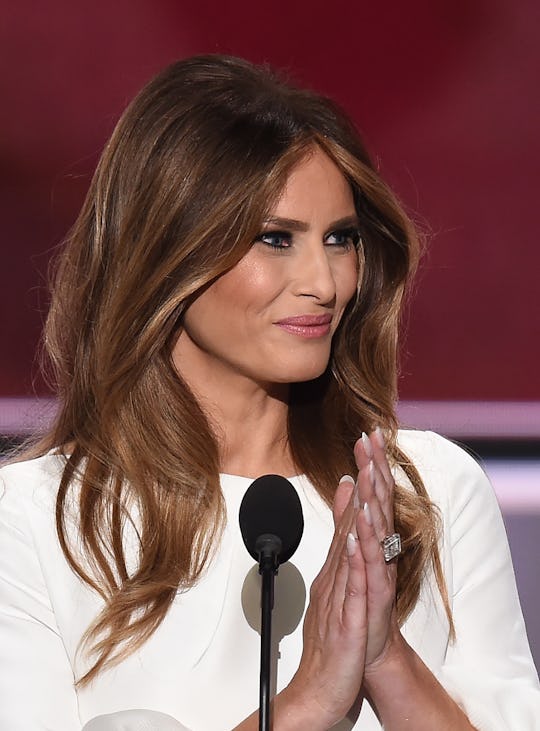 ROBYN BECK/AFP/Getty Images
Nude Photos of Melania Trump Are A Distraction & Here's Why
A set of lightly censored nude photos of Melania Trump were published online by The New York Post on Saturday. The pictures are from Trump's former modeling career, taken in 1996, and were originally published in a now defunct French men's magazine. The Post ran the story with the arguably sexist headline "The Ogle Office," which is bad enough — but to make matters worse, Donald Trump provided a statement where he made clear the photos were taken before he met his wife. No member of the Trump family is a stranger to scandals, however, the timing of this particular story is more than a little suspicious. If nothing else, the nude photos of Melania Trump are simply a distraction in the worst way possible.
The New York Post formally endorsed Donald Trump for President of The United States back in April. It's odd that they would publish a story that seems to shed a negative light on their candidate of choice's wife. The story went live on a Saturday night, as well, instead of prime news hours. Emily Nussbaum of The New Yorker was quick to suggest why this might be. "Immediate thought," Nussbaum wrote in a tweet on Saturday evening. "The Melania pics are a sexist nothingburger story meant to distract us from real stuff like what Trump said re the Khans."
Khizr and Ghazala Khan are the parents of a Muslim American war hero, Army Capt. Humayun S.M. Khan, who was killed in action in Iraq. The proud parents took the stage at the Democratic National Convention and gave an impassioned speech that denounced Donald Trump. Khizr told Trump that he has "sacrificed nothing and no one."
Trump, of course, had something to say about the Khan's indictment of him. In an interview with George Stephanopoulos, Trump implied that Ghazala was not allowed to speak because of her Muslim religion, stating:
He was very emotional and probably looked like a nice guy to me. His wife, if you look at his wife, she was standing there. She had nothing to say. She probably, maybe she wasn't allowed to have anything to say. You tell me, but plenty of people have written that. She was extremely quiet, and it looked like she had nothing to say. A lot of people have said that.
Trump has seemingly used the disruption of a negative news cycle as a strategic way to distract attention from his public faux pas. The RNC allegedly threatened to run negative stories about Ted Cruz if he did not endorse Trump at the convention. It's possible that the re-release of Melania's old modeling photos is a tactic to distract the world from her husband's bigotry against the Khan's. If we're all talking about Melania, the Republican nominee's comments have the chance to slip through the cracks.
Melania's pictures from 1996 aren't newsworthy. They are part of the past. The possibility of a Trump presidency is very real and very present. We need to stop looking at pictures of his wife and start looking at what he's saying. He's speaking as a nominee now, but could be addressing us as the President of The United States in the very near and very real future.