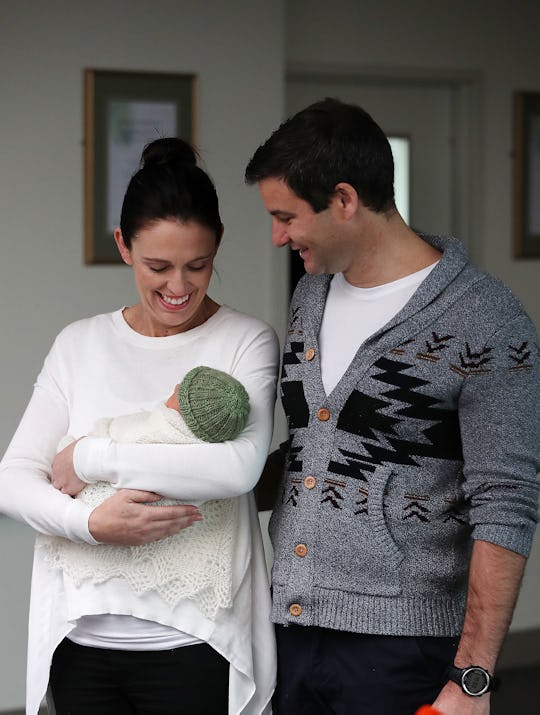 Fiona Goodall/Getty Images News/Getty Images
Prime Minister Jacinda Ardern's Live Video Is A Total "Boss Mom" Move
Since her party was elected in New Zealand, and Jacinda Arden was named prime minister, she definitely hasn't been afraid to lead the country on her own terms. When she took office in Oct. 2017, Ardern was already the world's youngest female leader, but last month, the 37-year-old also became only the second-elected leader to ever give birth while holding office, and now, she's become the first to take a maternity leave. That certainly isn't holding her back from her duties though: on July 1, Prime Minister Jacinda Ardern posted a live video from her couch while holding her newborn to announce the introduction of nationwide welfare reforms for families. And while the plan itself is certainly impressive, the way she's chosen to share it — on social media, in a video shot in her own home where she's sitting, makeup-less, and snuggling with her baby under a blanket — also sends a seriously powerful message to anyone who may have doubted her ability to be both a new first-time mom and a badass prime minister.
In the video, Ardern sits with her daughter, Neve, wrapped up in a wool blanket on her lap, looking just like any other smitten new mom. But the clip itself wasn't about her daughter, it was about explaining the introduction of a families benefit package designed to help meet one of her primary campaign promises: to lift 64,000 New Zealand children out of poverty by 2020, according to The Guardian.
In addition to an increase in paid parental leave from 18 to 22 weeks, the prime minister — who is in the middle of a six-week maternity leave herself — told viewers that July 1 marked the official introduction of the "Best Start" payment, a universal $60 a week payment given for the first year of a child's life. The Best Start payment, Ardern explained, was designed to reflect research that shows that the first few years of a child's life are some of the most important, and a particularly crucial time for those living in poverty. And while the $60 a week is universal only up to a child's first birthday, it will continue up to age 3 for families who are "on a low or middle income," including single parents already receiving "sole parent support payments."
Ardern said that she was "so, so proud" of the Best Start program, and explained that after testing it out and working it through, it "stood the test of time because .... the principle behind it is really, really solid."
In addition to Best Start, Ardern explained that the government had also increased the already-existing "Working For Families" benefit, along with the "Winter Energy Payment," which is an automatic payment given to those already receiving certain government benefits in order to offset the higher cost of heating during the winter months. Once the package is fully implemented, Ardern says that "380,000 families end up being better off by, on average, $75 a week," and called the families package "the thing that [she's] most proud of" since taking office, as well as "one of the most significant changes that we'll make to our tax credit system in New Zealand for decades."
Ardern's Facebook live video naturally garnered lots of attention and comments from viewers, including questions about baby Neve. While the infant wasn't directly visible, Ardern did joke that sitting on the couch with her baby was "[her] permanent state at the moment, either breastfeeding or this." And though she quipped that she had "a bit more bags under the eyes than usual," she added, "I promise I am not too bad I really just don't have any make-up on... but we are doing great, we are doing really great."
On June 24, Ardern shared her first Facebook live video since her daughter's birth, when she was preparing to leave Auckland hospital with her partner, Clarke Gayford — who is set to become a full-time dad when Ardern returns to work — and their newborn daughter. In the clip, she offered her thanks to "everyone who has been so kind and so generous from the very moment that we announced that we were having a baby," and noted that the outpouring was "a reminder of how wonderful and hospitable and kind New Zealanders really are."
As much as Ardern seems to be totally nailing the "having a new baby while also being a world leader" role, she's definitely had her fair share of questions and naysayers. Speculation over whether or not she intended to be a mother began pretty much immediately after she was elected, and the attention that came after she actually announced her pregnancy was huge. But Ardern isn't afraid to admit that being a pregnant prime minister doesn't make her a superhero, it just makes her a woman who happens to be running a country and raising a child.
And judging by her latest video, she's still taking both of those roles very seriously.