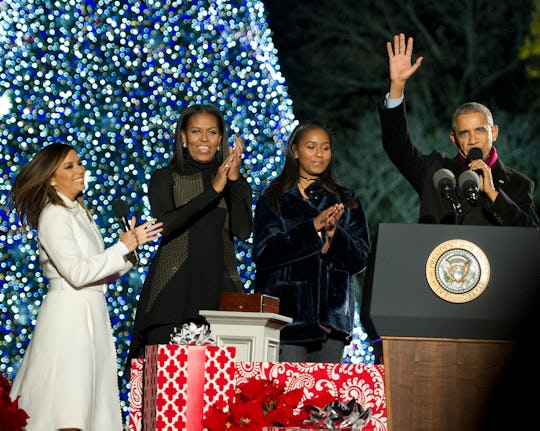 Pool/Getty Images News/Getty Images
'Tis The Season To Reminisce Over Obama Family Holiday Traditions
During the Obama family's eight holiday seasons in the White House, the family developed plenty of holiday traditions. Unfortunately, the former first family will mostly likely not be gracing the White House this Christmas, but I have no doubt that the family is still celebrating the holiday in its own special way. With Christmas just around the corner, now seems like a good time to reminisce over the Obama family's holiday traditions.
Like the Obamas feel about several holidays, Christmas is a time for giving back. And during multiple Christmas seasons while in office, Barack and Michelle Obama volunteered at the U.S. Marine Corps Reserves Toys for Tots. The couple made headlines for its annual tradition in 2014, when they spoke against gender stereotypes when sorting toys into "boy" and "girl" bins, according to The Mary Sue. As the outlet noted, President Obama put toys including a basketball, a T-ball set, and LEGOs in the girl bin. "I'm just trying to break down those gender stereotypes," he said at the time, according to a video of the event.
Additionally, Obama used his platform to encourage Americans to do their part for citizens in need on Christmas. "So many people all across the country are helping out at soup kitchens, buying gifts for children in need, or organizing food or clothing drives for their neighbors," he said in a 2013 address, as per The Daily Mail.
One more way Michelle Obama gave back during the Christmas season was by reading books to patients at the Children's National Medical Center. However, she was not the first FLOTUS to do this — according to the Obama White House archived website, the annual tradition started with First Lady Bess Truman more than six decades ago.
Another Obama Christmas tradition during the family's time in office was featuring their dogs on their Christmas cards. As The Mirror reported, the family's official card featured solo shots of their dog Bo every year, until Sunny joined the family in 2013, when he joined in the annual photo. The family almost kept the tradition up until the very end. For the Obamas' final Christmas card as first family, they opted for a photo of Barack, Michelle, Malia, and Sasha posing at the White House during a State Dinner for Canadian Prime Minister Justin Trudeau, according to Quartz.
Even though the Obamas could certainly afford to shower their daughters with gifts, they choose not to, because Sasha and Malia "understand that anything they need they already have," Michelle told Ladies' Home Journal in October 2016, as TODAY reported. Instead, Michelle has the family observe a tradition that her extended family started years ago. She also said in the interview:
Our extended family was so large, people couldn't really afford to buy gifts for everyone ... So a couple of our aunts would go out and purchase small gifts. They would put them in a basket and in order to get a gift you had to perform. Everyone from the smallest to the tallest, from the oldest to the youngest, had to perform something. You could tell a joke, read a poem, do a backflip — anything counted.
Additionally, the Obamas were big fans of the White House's National Christmas Tree Lighting concert, where a slew of amazing artists have performed over the years. For the family's final concert in 2016, artists including Kelly Clarkson, Chance the Rapper, and Yolanda Adams all took the stage for — and with! — Obama, as noted by Pitchfork.
Obama also made a point to celebrate holidays besides Christmas during his tenure in the White House. According to The Hill, Obama released a statement wishing Americans a happy Hanukkah every year that he was president. He has also hosted several menorah-lighting ceremonies, the Washington Jewish Week noted.
The Obamas probably won't let Americans in on their Christmas celebrations this year as much as they did while in the White House. However, there's a good chance Barack and Michelle will still post messages on social media wishing Americans a happy holiday season, which they both do pretty much every Christmas.
Happy holidays, Barry and Meesh! ❤️