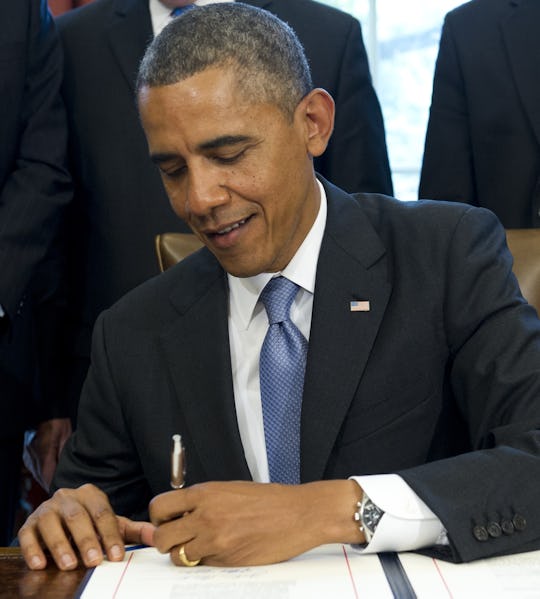 SAUL LOEB/AFP/Getty Images
Obama Forgives Student Loan Debt For Those With Permanent Disabilities & It's A Big Deal
Remember when you were a senior in high school, just trying to get closure on everything you had hoped to accomplish by the time you went to the prom? President Obama seems to be doing just that these days. In a major announcement this week, Obama forgave student loan debt burdens for those individuals living with permanent disabilities — and it's sort of a big deal.
Student loan forgiveness for the permanently disabled has been available for the past few years, but not many knew about it or had taken advantage of their Social Security qualification. The measures announced this week are a bit more active, with the Department of Education actively seeking out qualified individuals and guiding them through the process.
According to The Associated Press, starting on April 18, the department will send letters to about 87,000 tax payers that explain that they're eligible for loan forgiveness. The letter will have an application that can be filled out and then returned, without having to provide documentation of their eligibility, making it easy for anyone who can to take advantage of the legislation. Persis Yu, a project director at the National Consumer Law Center told the AP that this move bridges a knowledge gap that had previously been left open. "Many Social Security Disability recipients qualify for loan cancellation, yet most do not know about the discharge program," he said.
It's not a perfect system. Those that fill out the forms will then undergo a three year monitoring program where their income will be re-assessed. If it reaches a certain threshold, they might have to start remaking payments. But the first step is making sure that those who are eligible know that they're privy to the relief, even if it is under review.
"Americans with disabilities have a right to student loan relief," said Education Under Secretary Ted Mitchell, according to The Washington Post. "... We need to make it easier, not harder, for them to receive the benefits they are due." He added that,"too many eligible borrowers were falling through the cracks, unaware they were eligible for relief."
This new move is all part of Obama's Student Aid Bill of Rights program, which is made up of the following provisions:
Every student deserves access to a quality, affordable education at a college that's cutting costs and increasing learning.
Every student should be able to access the resources needed to pay for college.
Every borrower has the right to an affordable repayment plan.
And every borrower has the right to quality customer service, reliable information, and fair treatment, even if they struggle to repay their loans.
The initiative will certainly benefit a lot of deserving students in the short term. With the election looming this fall though, it's anyone's guess as to whether Obama's student loan forgiveness plans will carry on throughout the next administration or not. In the meantime, it's worth giving Obama credit where it's due when it comes to last minute maneuvers to make good on some old campaign promises.