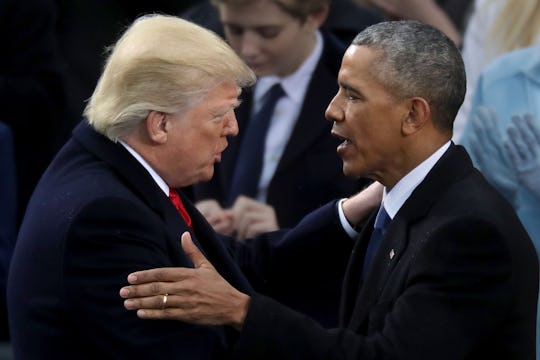 Chip Somodevilla/Getty Images News/Getty Images
Reports Say Obama Warned Trump About Hiring Michael Flynn
Two days after winning the election in November, President Donald Trump headed to the White House for what at the time felt like a very strange and rather awkward meeting with former President Barack Obama. The two men made an effort to speak highly of one another to reporters, and called the meeting a success. But on Monday, a former Obama administration official told NBC News that behind closed doors, Obama warned Trump about hiring Michael Flynn, the retired lieutenant general whom Trump eventually appointed as his national security adviser during his transition to the Oval Office. Unfortunately for Trump, it didn't take very long for it to become pretty clear that he should have listened to his predecessor's advice: according to CNN, Trump fired Flynn less than a month later after reports surfaced that he'd allegedly been in contact with Russian Ambassador to the U.S. Sergey Kislyak, and that he'd "misled" Vice President Mike Pence about the nature of their conversations. (Romper's request for comment was not immediately returned.)
The source told CNN that Obama reportedly revealed to Trump that Flynn's name "kept popping up" in the administration's investigation into alleged Russian interference in the election. Flynn had also worked under Obama as the head of the Defense Intelligence Agency until 2014, when he was allegedly fired due to "internal disagreements over policy and management."
Obama wasn't the only one who had reservations about Flynn, however. According to The Washington Post, a number of senior members of Trump's transition team warned Flynn in November about having contact with Kislyak — weeks before Flynn was recorded discussing U.S. sanctions against Russia in a phone call with Kislyak.
Then there's former acting Attorney General Sally Yates, who allegedly warned White House counsel Donald McGahn that Flynn had misled officials about his contact with Kislyak, according to NBC News. On Monday afternoon, Yates will publicly testify for the first time in front of the Senate Judiciary subcommittee investigating Russian interference in the election. About a week after Yates' discussion with McGahn, the story about Flynn's interaction with Kislyak was leaked to the press, ultimately leading to his forced resignation.
On Monday morning, Trump took to Twitter to suggest that Yates may have had something to do with the news about Flynn becoming public, and wrote that the committee should ask Yates about it under oath:
He also took a shot at the Obama administration for giving Flynn "the highest security clearance" — something which was renewed in January 2016, according to NBC News. What isn't clear however, is how Trump's own administration chose to vet Flynn ahead of taking role as national security adviser, and whether Trump's team had reason to be concerned about him before he took his post, beyond what the president was told by Obama.
In a press briefing Monday, White House press secretary Sean Spicer acknowledged the conversation between the two presidents, according to NPR. Spicer said, "It's true that ... President Obama made it known that he wasn't exactly a fan of Gen. Flynn's," but also noted that Flynn was "an outspoken critic of Obama's shortcomings," suggesting that perhaps Trump thought that was the reason behind Obama's criticism. According to CNN, Flynn was a "constant presence" during Trump's presidential campaign, and even spoke at rallies, where he often denounced Obama and former Secretary of State Hillary Clinton — at times even encouraging the crowds to chant "lock her up," in reference to the scandal surrounding her use of a private email server.
Trump himself has yet to offer a comment on his conversation with Obama as it pertains to Flynn, and given that Spicer has already discussed it, it's possible that might just choose not to. What happens next, then, will likely depend on the contents of Yates' testimony — although it's possible that it will also be short on details. According to NBC News, while Yates will certainly be asked about the warning she gave about Flynn, the facts surrounding that conversation largely involves classified material, which she wouldn't be at liberty to discuss.
As the investigation continues however, it will no doubt be important to determine exactly who knew what, when they knew it, and what they did with that information. And given the implications those questions have for the country, it's probably safe to assume that Americans will be waiting for answers.