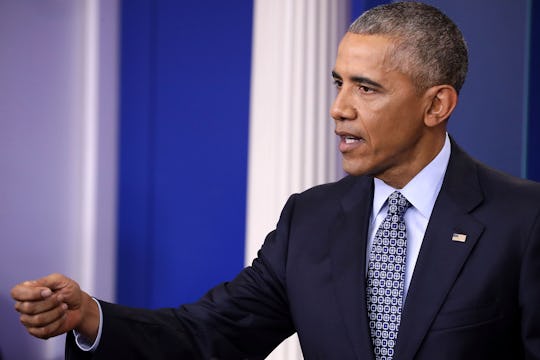 Chip Somodevilla/Getty Images News/Getty Images
Obama's Manchester Bombing Response
The city of Manchester, England was shaken Monday night after a terror attack at a concert left at least 22 dead. In the aftermath, U.S. officials began sending their condolences; Among those who spoke out was President Barack Obama, who responded to the Manchester bombing with a moving tweet, promising unwavering solidarity between the United States and the United Kingdom. Though thoughtful, these messages pale in comparison to the extent of the tragedy felt by the families of the victims.
At 10:30 p.m. local time on May 22, a suicide bomber detonated an explosive in Manchester Arena after an Ariana Grande concert. Local police named a 22-year-old man as the suspect behind the bombing, but they're still seeking formal confirmation. ISIS claimed responsibility for the attack but, again, more investigation is needed and analysts are skeptical of those claims.
Obama's message, sent out in the afternoon on the day after the attack, was brief. "Our hearts go out to those killed and wounded in Manchester," he wrote. "Americans will always stand shoulder to shoulder with the people of the UK." The president and first lady are in Italy at present and will stay in Europe for Obama to deliver a speech later this week. Obama will also give a speech at Brandenburg Gate in Berlin, alongside German Chancellor Angela Merkel, "To highlight his foundation's new global effort to inspire and support young people active in narrowing inequality, combating climate change, working on public health, empowering women and girls and boosting young entrepreneurs," CNN reported.
Obama's successor, President Donald Trump, also responded to the Manchester attack this week, delivering a message in Bethlehem while next to Palestinian leader Mahmoud Abbas. "So many young, beautiful, innocent people living and enjoying their lives, murdered by evil losers," Trump noted in his message. At another speech later given later that day at the Israel Museum in Jerusalem, he emphasized: "Horrific, horrific injuries. Terrible. Dozens of innocent people. Beautiful young children, savagely murdered in a heinous attack upon humanity." He then related the tragedy to his current trip to the Middle East, insisting:
This trip is focused on that goal, bringing nations together around the goal of defeating the terrorism that threatens the world and crushing the hateful ideology that drives it so hard and seems to be driving it so fast.
Trump also tweeted a similar message to Obama's. "We stand in absolute solidarity with the people of the United Kingdom," Trump tweeted on Tuesday. A few hours later he elaborated with another tweet, urging: "All civilized nations must join together to protect human life and the sacred right of our citizens to live in safety and in peace."