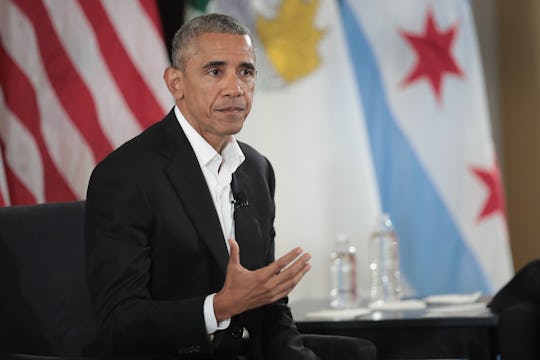 Scott Olson/Getty Images News/Getty Images
Obama Says Manchester Attack Broke His Heart
On Thursday evening, accompanied by both German Chancellor Angela Merkel and Archbishop of Canterbury Justin Welby in Berlin, former President Barack Obama released a poignant statement on the Manchester attack, speaking directly to the people of Manchester and acknowledging the very real fear felt by parents around the world following Monday's bombing. In the statement, released by Merkel's spokesperson on Twitter on Thursday, Obama called Manchester's loss "unimaginable."
"As the father of two daughters, I am heartbroken by the extraordinary tragedy that has occurred in Manchester," he said in a video. He continued:
To all the families who have been affected, to those who are still recovering, to those who have lost loved ones — it's unimaginable to think about the cruelty and the violence that the city of Manchester has suffered. Our thoughts and prayers are with all of you. There are families all around the world who are grieving with you.
Obama's concern as a father highlights the particular atrocity of the attack in Manchester. The bombing took place at an Ariana Grande concert on Monday evening, an event that was full of girls, their parents, and young women. Of the 22 people killed, seven were children. Another 116 people were injured in the blast, according to the BBC, including at least 12 children under age 16. Grande, who was uninjured in the attack, tweeted that she was "broken" by the event.
"Through faith and resolve, the character of the people in Manchester has shown itself with the kindness and the ways in which you are assisting each other," Obama said on Thursday. "Just know that the entire world is in solidarity with you right now."
Obama — who lists "dad" at the top of the list of roles he plays on Twitter — had tweeted previously that "Americans will always stand shoulder to shoulder with the people of the U.K."
Grande's concerts attract a large number of children and teens, including many under age 16. For Obama and all other parents out there, the Manchester bombing joins attacks like the Sandy Hook Elementary School shooting in Newtown, Connecticut, in its level of tragedy. Monday's attack turned what should have been a carefree, special night out into a source of trauma for the children who attended, and it brought new fears to light for parents of young kids around the world.
Obama's statement highlighted the particular fear and sadness that parents felt after the Manchester attack — and the solidarity felt by the world in light of the tragedy.