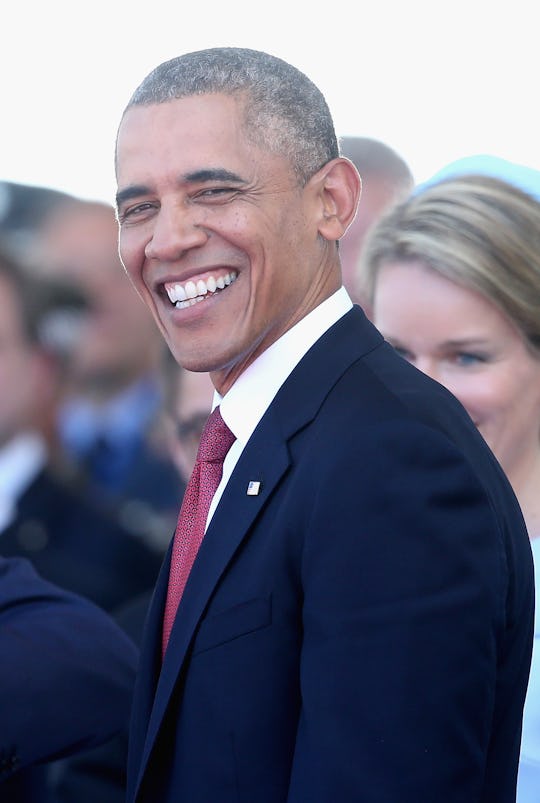 Chris Jackson/Getty Images News/Getty Images
Once Upon A Time, Long Before The White House, Obama Got "Booted" From Disneyland
Ah, Disneyland, the land of magic and the happiest place on Earth. It can be hard to imagine what exactly would get a person kicked out of Disneyland and who would even be the type. But, after a recent speech, it's become clear that Disneyland doesn't discriminate when it comes to its rules. As it turns out, President Barack Obama was once kicked out of Disneyland thanks to breaking one pretty big rule.
Now, Disneyland obviously has its fair share of rules, seeing as it's an amusement park directed at children. As just about any parent can share, though, it's easy to slip up and do things that might be fine elsewhere — but not in kid-friendly places. When it comes to accidents like that, there's no judgement or shame, as long as people can admit their mistakes.
Using his experience as a funny, cautionary tale seems to be Obama's go-to tactic now. On Sept. 8, Obama made a stop in Anaheim, California at a rally for Democratic congressional candidates, as reported by CNN Politics, and during his speech, Obama shared a story about a previous visit to the Californian city that he felt a bit "ashamed" of. And as one can imagine, Obama's story served as a quick way to lighten the crowd's mood.
Obama started the story by telling the crowd that this story occurred during his second trip to Disneyland, according to CBS News. His first trip, the former president said, was when he was 11 years old.
"This was my first big trip to the mainland," Obama said of that visit. But for the visit that became the focus of the story, Obama opened up by telling the crowd that he was in college at the time. "I'm dating myself a little bit here. I'm ashamed to say this, so close your ears, young people, but a few of us were smoking on the gondolas," Obama told the crowd, causing a few people to laugh. He clarified, quickly, that they were only smoking cigarettes.
Smoking in any public space is obviously a big no-no now, but those smoking bans only started gaining popularity in the early 2000s. In other words, long after Obama was in college. According to CBS News, Obama went on to tell the listening crowd:
There's these two very large Disneyland police officers and they say, "Sir, can you come with us?" And they escort us out of Disneyland. This is a true story, everybody — I was booted from the Magic Kingdom.
The image of Obama being booted from the Magic Kingdom is definitely funny, but it goes to show that everybody makes mistakes sometimes — even people who go on to become president.
Those with connections to Disney had some fun tweeting their reactions to Obama's story. Former Disney CEO Michael Eisner shared his on Twitter, writing, "Just to be clear. I was not CEO Of @Disney when @BarackObamawas at @Occidental College and was 'booted' out of @Disneyland for smoking a cigarette. Knowing he was going to be President, I wouldn't do that :)"
Current Disney CEO Robert Iger also took to Twitter to share his reaction. He tweeted, "@BarackObama just opened his speech in Anaheim with a story from his college years about getting kicked out of Disneyland for smoking cigarettes on a ride. 'This is a true story everybody, I was booted from the Magic Kingdom!' He can always come back, as long as he doesn't smoke!"
It seems that the happiest place on Earth isn't big on holding grudges. That comes as a big relief. And, as Travel & Leisure noted, if Obama ever wants to return, there are several designated places to smoke inside of Disneyland now.
Obama has worked on kicking his smoking habit, though, so more than anything it's a fun, cautionary tale that reminded the crowd just how relatable President Obama is.