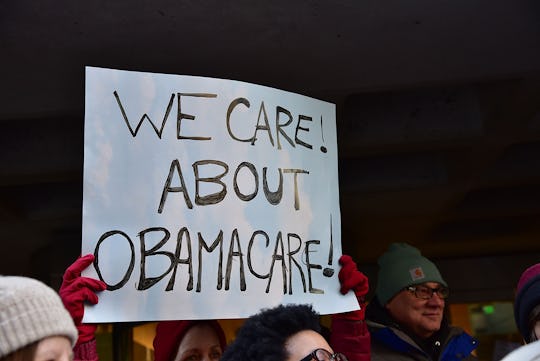 Lisa Lake/Getty Images Entertainment/Getty Images
Obamacare Enrollment Rises In Pro-Trump States
With 400,000 more sign-ups than had occurred by the preliminary deadline last year, the Affordable Care Act is seeing growth, not decline, in the wake of a forthcoming Donald Trump presidency. What's even more surprising? Obamacare enrollment is highest in states Trump won. Of the 6.4 million Americans who made the most recent coverage deadline, qualifying them for coverage on Jan. 1, nearly 1.3 million were from Florida, about 776,000 were from Texas, 369,077 came from North Carolina, 352,000 from Georgia, and 290,950 from Pennsylvania. Suffice it to say, consumers are still interested in what the healthcare law has to offer, even as premiums continue to rise and Republicans insist on passing measures to repeal and replace it.
Health and Human Services Secretary Sylvia Matthews Burwell told reporters in a conference call about enrollment numbers that more than 30,000 Americans have called the office "worrying about the future of coverage in the wake of the election," according to CNN. She said she thinks this worry is what caused the recent spike in enrollment. Worriers will be happy to know, though, that their coverage will indeed extend through 2017, despite what the incoming administration intends to do about the healthcare law. "American people don't want to go backwards. They don't want to gamble with their healthcare during a repeal and delay," Burwell stressed.
The current 6.4 million Obamacare enrollees consists of 2.05 million new enrollees and 4.3 million people who have re-upped their existing plans in the 39 accounted for states. By these metrics, there are actually fewer new enrollees this year, seeing as last year touted 2.4 million new enrollees.
"We're going to finish this open enrollment by trying to enroll more people than ever," Burwell said, stressing that she "want[s] uninsured Americans who have not yet signed up to know they have not missed their chance to get covered." The final Obamacare enrollment deadline is Jan. 31 — a date by which the proponents of the law hope to hit a 13.8-million enrollment benchmark. The final total, which includes plans with automatic extensions as well at the currently unaccounted for states and territories, will be released in January.
Enrollment totals are especially significant at a time when Republican lawmakers are planning how to go about repealing and replacing Obamacare. Conservatives are currently at odds about a preferred course of action, debating an immediate repeal versus a delayed repeal, along with an immediate replace versus a delayed replace. Still, if the enrollment data is any indication, it seems that even Americans who may have voted for a candidate who doesn't support the healthcare measure are able to see (and reap) the benefits that the measure affords them.