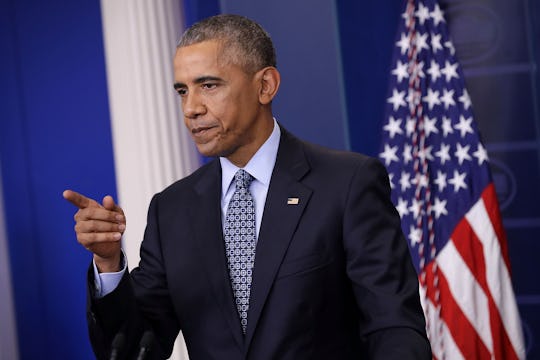 Chip Somodevilla/Getty Images News/Getty Images
Obama's Final Words As Prez Will Make You Weep
It's an historic morning across the United States, as scenes of a peaceful transition of power from one president to the next can be found on virtually every screen Friday morning. In one final presidential tradition, outgoing President Barack Obama left a private letter for incoming President-elect Donald J. Trump on the Resolute Desk in the Oval Office. It was a moving moment as cameras captured Obama leaving the Oval Office for the final time. As the 44th President of the United States crossed the Oval Office patio, a reporter called out to the president, asking for Obama's final words to the American people. Obama offered a profoundly humbling response, words that will define his legacy to this nation: "Thank you."
You can't deny that, no matter what you might have thought about Obama's policies and time in office — he's one class act. He could have said anything, or even nothing at all — but as Obama moved onto the next stop on his schedule and truly, the next phase of his life, he chose to offer words of gratitude. If it were me, I probably would have said something along the lines of "Good luck!"
Obama has often brought a theme of gratitude into many of his public remarks over the past eight years, characteristic of his deep commitment to being both public servant and leader. While the two roles aren't mutually exclusive, Obama has noted that his presidency has been prioritized as a role of public service before leadership; it's subtle, but profound, and in stark contrast to the presidential philosophy of the incoming President-elect Trump.
At his farewell speech, Obama lead with gratitude as well, speaking before thousands in his hometown of Chicago earlier this month. "Michelle and I have been so touched by all the well wishes that we've received over the past few weeks," he said. "But tonight, it's my turn to say thanks." While proudly speaking of his many achievements during his two terms, he wrapped his farewell speech again thanking the American people for granting him the opportunity to serve them:
My fellow Americans, it has been the honor of my life to serve you. I won't stop. In fact, I will be right there with you, as a citizen, for all my remaining days.
President Obama — because you will always be a president, even if you're no longer the president in the White House anymore — Thank you.