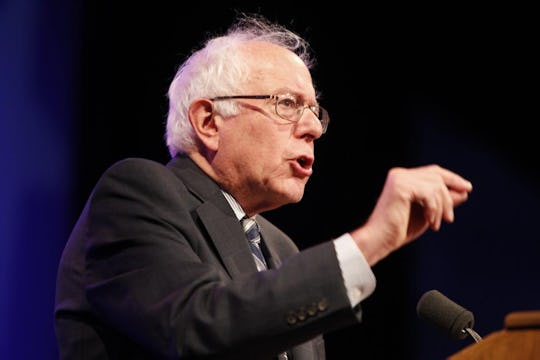 sanders.senate.gov
Obama's Immigration Executive Action Rejected By Appeals Court, But It Still Has Supporters
In a 2-to-1 decision, a federal appeals court has ruled against President Obama's executive action on immigration, which would help protect an estimated 5 million undocumented immigrants living in the United States from being deported. And, in response, Presidential Candidate and Vermont Sen. Bernie Sanders issued a statement, in which Sanders backs President Obama's position on deportation. 
The appeals court's decision would please the GOP, which resisted the measure because, as it claimed, it was a case of executive overreach. But the Democratic party is supporting its president as the case moves onto the Supreme Court. As Sanders said in his statement: 
The president is absolutely right to appeal this unfortunate lower-court decision. American immigration policy should be about uniting families, not separating families. President Obama believes that the parents of children who are citizens or legal permanent residents should be able to stay with their children, not be forced out of the country. I look forward to the Supreme Court acknowledging the president's position.
As does Obama's party, clearly. In short, Bernie's got the president's back.
Though the rejection of Obama's directive is a major blow to immigration advocacy groups and the president, who has made immigration one of his key issues this term, it's not the end of the road. It was not a surprising ruling coming from the 5th U.S. Circuit Court of Appeals, one of the most conservative in the country. As the Supreme Court to takes up the issue, Obama's administration hopes that it will validate the president's authority to prevent millions of deportations and split families.  
"Today's ruling is not a surprise but is still a disappointment," said Ben Monterroso, director of non-profit Mi Familia Vota. "We have understood from the beginning of this politically driven lawsuit that the case would likely go to the U.S. Supreme Court. We urge the U.S. Department of Justice to waste no time in filing an appeal to the Supreme Court."
Let's hope they get it together before President Obama leaves office. The judicial system isn't exactly known for its speediness, but perhaps this will be the exception. A girl can dream. 
Images: www.sanders.senate.gov