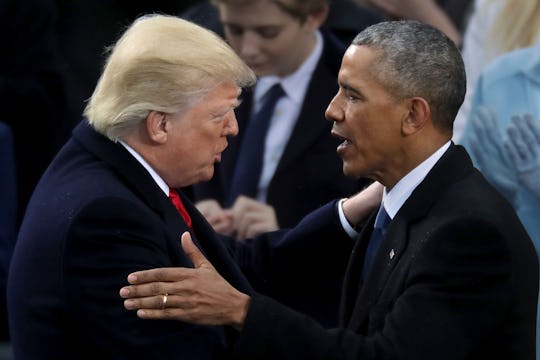 Chip Somodevilla/Getty Images News/Getty Images
This Letter Obama Left For Trump Will Bring You Back To The Good Old Days
It has been 226 days since the United States swore in a new president. Since then, so much has happened that it's been hard just to keep track. There have been enough investigations, firings, leaks and resignations to fill an entire presidency — and it hasn't even been a full calendar year. But, while it's of course important to pay attention to what's happening, it's also nice to reminiscence on what used to be. And Obama's Inauguration Day letter to Trump will seriously bring you right back to the good old days and maybe make you shed a tear or two.
As reported by CNN, the outlet obtained Obama's letter that he left for Trump back in January. It reportedly got leaked after Trump showed it to numerous White House visitors. And while the letter alone is enough to make you miss the 44th POTUS, the noble and humble way it was given to Trump — discreetly placed in the Oval Office's desk drawer — shows just how deserving Obama was of the presidency.
His eloquence, morality, and character shine through in the letter, and, despite everything else going on in the world today, it definitely deserves your attention. Because no matter what Trump has done since taking office, it's crucial to remember that the man before him wished him success, in a beautiful way.
Read the letter below:
Obama's letter doesn't offer any exact pieces of advice, but he does use the opportunity to "offer a few reflections" from the past eight years. And in doing so, does not press down hard on Trump's campaign rhetoric or scandals, but instead, attempts to level with him, president to president.
Some reflections in the letter include the presidential duty to "build more ladders of success" for those in America who aren't as "blessed" as they are. However, there is another reflection Obama offers that serves as an important reminder to those of us who value democracy.
In the middle of the letter, Obama reminds Trump of the specific tenants of American democracy that so need to be protected:
Third, we are just temporary occupants of this office. That makes us guardians of those democratic institutions and traditions — like rule of law, separation of powers, equal protection and civil — that our forebears fought and bled for. Regardless of the push and pull of daily politics, it's up to us to leave those instruments of our democracy at least as strong as we found them.
Truly, separation of powers is a crucial aspect of what makes America actually great, and one that seems to be recently threatened by Russian hacking into the 2016 presidential election. Moving forward, the nation is undoubtedly hoping that President Trump will remember the sage advice given to him by Obama, and put the well-being of America — not bigotry, or personal preferences, or monetary interests, or divisive political talking points — first.