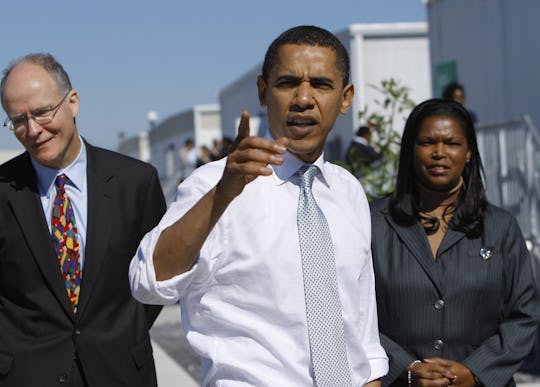 EMMANUEL DUNAND/AFP/Getty Images
Why Obama's Response To Hurricane Katrina Matters Today
Unfortunately, America is a divided country right now. Of course, people have always had their differences, but after the 2016 presidential election — and really, even just before it — the United States discovered just how divided it really was. As so many Americans felt shocked and saddened that President Donald Trump won the election, so many others felt elated and joyful. And it's only escalated since then. And even in the wake of a natural disaster, people will still find a way to make it a partisan issue. In fact, a new trend of Trump supporters wondering what President Barack Obama's response to Hurricane Katrina was has appeared, even though he was not the president when the devastating storm hit Louisiana more than a decade ago.
To clarify, Hurricane Katrina hit the United States in 2005, while George W. Bush was president. In fact, Bush received a lot of criticism at the time for his own actions after Katrina. On Aug. 31, 2005, Bush left his ranch in Texas two days after Katrina made landfall. It was then that his most infamous moment as president was born, per U.S. News & World Report:
On the way back, he had Air Force One fly over part of the devastated area and he glimpsed the wreckage from the plane. White House officials allowed news photographers to take photos of a grim-faced Bush looking out an Air Force One window but the PR gambit backfired. Many Americans saw the photo, which was widely disseminated, as evidence that Bush was too distant from the misery below.
Obama, on the other hand, was actually visiting victims in Houston who had been displaced by the hurricane. Alongside President Bill Clinton and then-Sen. Hillary Clinton, Obama toured the Astrodome in Houston to see relief efforts first hand, and met with many victims.
Trump, for his part, has been criticized for not meeting with Harvey victims while in Texas this week. In fact, Obama then went on to criticize the Bush administration for the federal government's response to Katrina, saying, "it is absolutely imperative that we call [President Bush] on his bluff," according to The Harvard Crimson.
So, while critics will always find a way to point fingers, this isn't really the time to do so. Harvey is quite literally destroying lives, and while it's of course important for politicians to be involved in national goings-on before they become president, it's clear that Obama was.
Isn't it time the world moves on, and focuses on actual issues? Such as relief efforts for Harvey victims, or what the federal government is doing now? Hurricane Katrina was an awful travesty, but it wasn't Obama's duty as president to mend at the time. More than that, it was over 10 years ago. Now, our nation is hurting again, and doesn't need offensive partisan politics making things worse and focusing on irrelevant factoids.