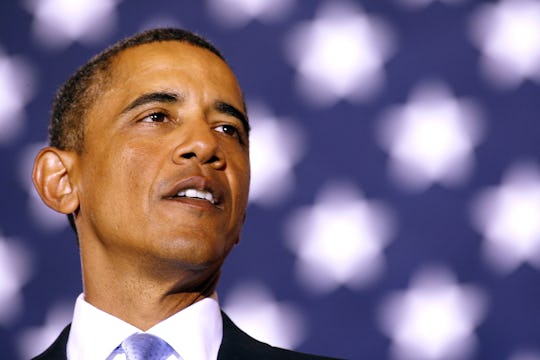 Pool/Getty Images News/Getty Images
Obama's Response To The Las Vegas Shooting Shows He's With America Right Now
In the wake of yet another attack on American soil, politicians, celebrities, and citizens alike have gathered on social media to express their condolences to the victims of Sunday night's shooting at a Las Vegas hotel. President Donald Trump tweeted on Monday morning, "My warmest condolences and sympathies to the victims and families of the terrible Las Vegas shooting. God bless you!" Country star Jason Aldean, who was onstage performing as the massacre took place, wrote on Instagram: "Tonight has been beyond horrific ... My Thoughts and prayers go out to everyone involved tonight." And President Barack Obama's response to the Las Vegas shooting showed again how much he cares for the country and that his heart is with everyone who's been affected by this tragedy.
Update: As of 6 p.m. ET on Monday, Oct. 2, CNN reports that 59 people have died and over 500 people were injured. Authorities say the suspect had 18 additional firearms, explosives and several thousand rounds of ammo at his home in Mesquite, NV.
"Michelle & I are praying for the victims in Las Vegas," Obama tweeted on Monday morning. "Our thoughts are with their families & everyone enduring another senseless tragedy."
More than 50 people were killed and hundreds more were injured after a lone gunman opened fired at a concert in a Las Vegas Hotel packed with 30,000 people, as NBC News reported. Authorities have since called it the deadliest mass shooting in modern American history.
Police responded to reports of the shooting just after 10 p.m. local time, and the suspect was fatally shot, although it's not clear if it was self-inflicted at this time, in the Mandalay Bay Resort and Casino — where the outdoor country music festival was hosted and where shooting took place occurred — officials told NBC News.
Local authorities, who reportedly don't believe there are any more shooters, found at least eight weapons, including multiple long rifles in the shooter's hotel room, CNN reported. "Right now, we believe it's a sole actor, a lone-wolf-type actor," police told CNN.
Among the current death toll of 50 and roughly 406 additional victims injured on Sunday night, at least one off-duty Las Vegas police officer was killed and "several other off-duty police officers are believed to be among the dead and injured," NBC News reported.
Video and photos posted to social media after the attack show thousands of people fleeing the arena and the chaos that ensued as concertgoers attending the Route 91 Harvest Festival tried to seek safety and duck for cover.
One eyewitness told MSNBC of the moment the shooting began: "We heard what sounded like firecrackers going off. Then all of a sudden we heard what sounded like a machine gun. People started screaming that they were hit… When we started running out there were probably a couple hundred [people] on the ground."
She continued, "People kept dropping and dropping. … People were getting shot one foot away from us ... People were trying to save their friends. There were gunshots everywhere. Helping them would've meant that we got shot, too."
Another witness told CNN he saw "dead bodies everywhere."
At this time, the shooter's motive is not entirely known, but police have reportedly said that they don't believe this attack has links to international terrorism. However, more than 50 people have reportedly lost their lives and scores more have been injured, and it's important to call this attack what it was — domestic terrorism, which is defined the committing of terrorist acts in the perpetrator's own country against their fellow citizens.
Yet, President Trump has not labeled it as such and has only issued one statement since the massacre occurred: a tweet on Monday morning, offering his "warmest condolences and sympathies to the victims and families of the terrible Las Vegas shooting."
While Obama also did not label this latest attack an act of terrorism, he's no longer in the White House. He's no longer the one in control of ensuring the nation has proper gun safety laws in place. President Trump is the one in charge now and his condolences will only go so far.