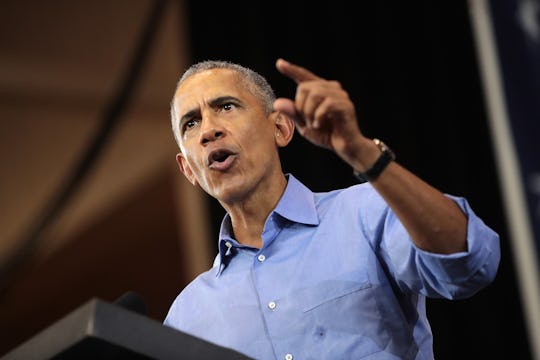 Scott Olson/Getty Images News/Getty Images
Obama's Response To The Midterms Leaves Us On An Encouraging Note To Keep Fighting
As midterm election results poured in, the world watched to see if that predicted "blue wave" showed up on Tuesday, Nov. 6. While the Democrats regained control of the House of Representatives for the first time in eight years, Republicans kept hold of the Senate. Though it wasn't necessarily a "wave" of blue, there is still feel encouraged by and celebrate. And Obama's response to midterm election results reminded the nation of just that.
On Wednesday morning, President Donald Trump had already issued his thoughts about the election's results via his favorite social media outlet: Twitter. The POTUS penned a tweet congratulating himself claiming victory that also, of course, attacked the media. "Those that worked with me in this incredible Midterm Election, embracing certain policies and principles, did very well," Trump wrote in one tweet on Wednesday morning. "Those that did not, say goodbye! Yesterday was such a very Big Win, and all under the pressure of a Nasty and Hostile Media!"
By contrast, the response from President Obama was infinitely more optimistic. Later on Wednesday, he shared a moving statement on Facebook and Twitter, first congratulating "everybody who showed up and participated in our democracy yesterday."
Obama continued, "Obviously, the Democrats' success in flipping the House of Representatives, several governorships, and state legislatures will get the most attention. But even more important than what we won is how we won: by competing in places we haven't been competitive in a long time, and by electing record numbers of women and young veterans of Iraq and Afghanistan, a surge of minority candidates, and a host of outstanding young leaders. The more Americans who vote, the more our elected leaders look like America."
Obama went on to write that he and his wife Michelle "couldn't be prouder of the alumni of my administration who took the baton and won their races last night."
Unlike Trump's tweets, Obama also took a moment to congratulate candidates "who fell short" because they've ignited a "new energy and new blood into our democratic process." He added, "America will be better off for it for a long time to come."
Obama's statement also touched on the amazing voter turnout the nation saw last night. As ABC News reported, roughly 113 million people turned out to vote in the 2018 midterms. "I also want to congratulate voters across the country for turning out in record numbers, and for voting for several ballot initiatives that will improve the lives of the American people – like raising the minimum wage, expanding Medicaid, and strengthening voting rights," Obama wrote.
Obama concluded his statement on an encouraging note, writing:
Our work goes on. The change we need won't come from one election alone – but it is a start. Last night, voters across the country started it. And I'm hopeful that going forward, we'll begin a return to the values we expect in our public life – honesty, decency, compromise, and standing up for one another as Americans, not separated by our differences, but bound together by one common creed.
This isn't the first time Obama has spoken out about the state of politics since Trump took office. Although he chose to lie low for quite some time, in September, Obama didn't hold back in his criticism of Republicans.
"Over the past few decades, the politics of division, and resentment, and paranoia has unfortunately found a home in the Republican party," Obama said, according to Rolling Stone. "Appealing to tribe, appealing to fear, pitting one group against another, telling people order and security will be restored if it weren't for those who don't look like us, that's an old playbook. It's as old as time. And in a healthy democracy, it doesn't work."
Although the blue wave wasn't a given, the political conditions leading up to Tuesday night definitely favored Democrats taking over the House of Representatives, as NBC News reported. This likely had to do with a combination of factors, including the historic number of open Republican seats, Trump's low approval ratings and the party's enthusiastic momentum.
The 2018 midterm election results certainly reflected years of frustration and a push for a more inclusive and progressive government. And Obama's statement serves as a reminder that those who are fighting for change are one step closer. As Obama wrote on Twitter, "The change we need won't come from one election alone – but it is a start."