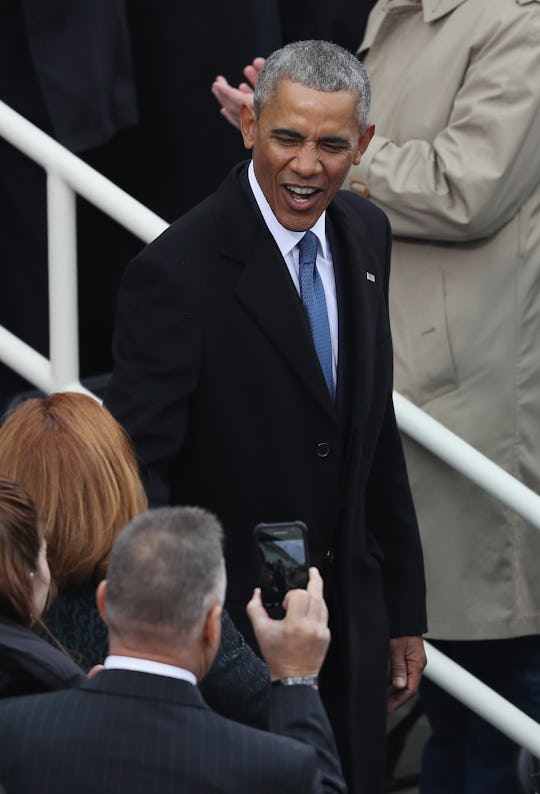 Joe Raedle/Getty Images News/Getty Images
Obama's Heartening Response To The "Muslim Ban"
In the days since President Barack Obama left office, many Americans have been missing his leadership, and wondering where he stands on the events that have been transpiring under President Donald Trump. But in the wake of Trump's controversial travel ban, Obama released a statement. And yes, Obama's response to the "Muslim Ban" is as heartening and inspiring as you'd expect.
Obama had remained silent on the new president's actions for the first nine days of his presidency (yes, it has only been that long), having previously made it clear that he was all about the peaceful transition of power, and giving Trump a chance. But as protests continue to roil the nation, and Trump continues to announce sweeping (and potentially unconstitutional) executive orders, Obama did what so many were hoping we would do. He spoke up. And although he didn't mention Trump by name, he made it clear just what he was talking about. The statement, issued by Obama's spokesman, Kevin Lewis, reads,
President Obama is heartened by the level of engagement taking place in communities around the country. In his final official speech as President, he spoke about the important role of citizens and how all Americans have a responsibility to be the guardians of our democracy — not just during an election but every day.
Citizens exercising their Constitutional right to assemble, organize and have their voices heard by their elected officials is exactly what we expect to see when American values are at stake.
With regard to comparisons to President Obama's foreign policy decisions, as we've heard before, the President fundamentally disagrees with the notion of discriminating against individuals because of their faith.
Amidst criticism of his executive order temporarily banning travelers from multiple Muslim-majority countries, Trump compared his policy to Obama's, downplaying the stunning reversal by saying, "My policy is similar to what President Obama did in 2011 when he banned visas for refugees from Iraq for six months," a misleading statement that earned a whopping Three Pinnochios rating from The Washington Post. Trump's team did not respond to Romper's request for comment about Obama's statement.
Obama has to walk a fine line. In normal circumstances, presidents tend not to comment much on their successors. President George W. Bush, for example, barely spoke out against Obama. But these are not normal circumstances. And many have been hoping for a little more leadership from the man who already led us through so much, even while acknowledging that he deserves a much-needed break from the spotlight.
So this statement comes as a relief to many, and as a reminder to keep working against any assault on our American values. Next time you're considering whether or not to head out to a protest, get on out there and keep up the good fight. After all, Obama's got your back.