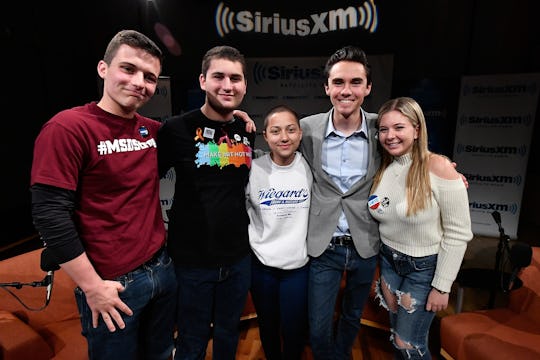 Larry French/Getty Images Entertainment/Getty Images
Obama's Moving Tribute To The Parkland Students In 'TIME's Most Influential People Is A Must-Read
In case you haven't had a chance to check it out yet, TIME released its 2018 list of the 100 most influential people in the world on Thursday. And this year's list looks a bit different than in years past. That's because a record number of women (45) were included, as well as a record number (also 45) of people younger than 40. Among the celebrities, politicians, athletes, doctors, and more, were five of the survivors of the Parkland, Florida, school shooting — during which 17 people were killed by a 19-year-old who entered Marjory Stoneman Douglas High School and opened fire with a semi-automatic assault rifle. For each of the 100 spots in TIME's list, guest contributors were paired to write about their impact. And President Barack Obama's tribute to the Parkland students in TIME's most influential people is a must-read.
These five Parkland students in particular — Cameron Kasky, Jaclyn Corin, David Hogg, Emma Gonzalez, and Alex Wind — emerged from the school massacre, ultimately, as prominent activists for gun safety. They were key in organizing the March for Our Lives in Washington, D.C., which attracted hundreds of thousands of protestors across the nation with its sister marches, USA Today reported. Through countless speeches, interviews, meetings with politicians, and social media calls to action they have remained outspoken in their demand for stricter laws on gun safety.
In his powerful tribute to these influential students, the former president acknowledges they don't have the giant budgets, lobbyists, or even the ability to vote yet. What they do have, though, has made all the difference. "But they have the power so often inherent in youth: to see the world anew; to reject the old constraints, outdated conventions and cowardice too often dressed up as wisdom," Obama wrote, according to TIME, continuing:
But by bearing witness to carnage, by asking tough questions and demanding real answers, the Parkland students are shaking us out of our complacency. The NRA's favored candidates are starting to fear they might lose. Law-abiding gun owners are starting to speak out. As these young leaders make common cause with African Americans and Latinos—the disproportionate victims of gun violence—and reach voting age, the possibilities of meaningful change will steadily grow.
If you have a few minutes of time between diaper changes/snack requests/school pick-ups, you're going to want to read Obama's tribute in its entirety. In the meantime, I'll leave you with our 44th president's parting words:
If they make their elders uncomfortable, that's how it should be. Our kids now show us what we've told them America is all about, even if we haven't always believed it ourselves: that our future isn't written for us, but by us.
It looks like the Parkland students have all given shout-outs to the former president for his moving tribute. "Thank you @TIME for this honor and an immense thank you to @BarackObama for the kind words. #NeverAgain," Alex Wind tweeted. David Hogg kept it short and sweet with, "Thanks, Obama."
For the record, President Donald Trump also made TIME's list of the 100 most influential people of 2018 and it was Ted Cruz who wrote Trump's tribute. "President Trump is doing what he was elected to do: disrupt the status quo," Cruz wrote, according to TIME. "That scares the heck out of those who have controlled Washington for decades, but for millions of Americans, their confusion is great fun to watch."
As for the Parkland students, to me, it comes as little surprise that these five students were named among the top 100 most influential people in 2018. Since the horrific Parkland shooting shocked the nation on Feb. 14, these survivors have relentlessly fought for gun safety. In doing so, they've managed to keep a national conversation going for more than two months. In fact, tomorrow, April 20 — the anniversary of the 1999 Columbine High School massacre — will be a National School Walkout, as CNN reported. Students across the nation will walk out of their classrooms at 10 a.m. across all time zones and have a moment of silence for shooting victims.
The nation owes the Parkland students for channeling their unimaginable grief and outrage toward working to make sure another mass shooting isn't just around the corner. Their relentless determination is truly remarkable. And Obama's tribute captures the spirit of their mission perfectly. #NeverAgain.
Check out Romper's new video series, Bearing The Motherload, where disagreeing parents from different sides of an issue sit down with a mediator and talk about how to support (and not judge) each other's parenting perspectives. New episodes air Mondays on Facebook.