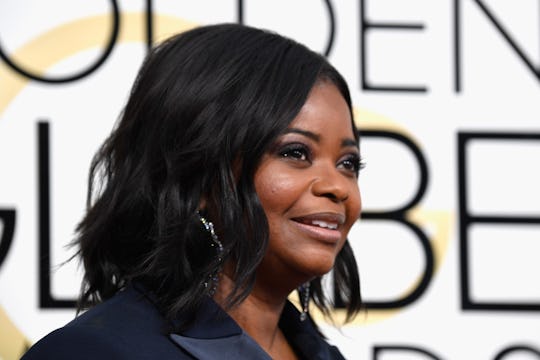 Frazer Harrison/Getty Images Entertainment/Getty Images
Octavia Spencer's Generous MLK Weekend Gesture
Kicking off the Martin Luther King, Jr. weekend in a wonderfully symbolic way, phenomenal human and incredible actress Octavia Spencer bought every ticket to Hidden Figures at a local screening, in order to offer low-income families with the opportunity to see the critically acclaimed film. And she has a very important reason for this generous gesture: The 46-year-old actress — who stars in the film as real life African American mathematician for NASA in the 1960s, Dorothy Vaughan — wrote on Instagram that she bought all of the tickets for a primetime showing of the film because she knows firsthand that many families won't be able to afford to see the movie. Spencer said she was honoring her late mother and all single parents along the way.
"Tomorrow I've bought the 8pm showing of #hiddenfigures the rave Baldwin hills," Spencer wrote on Instagram on Friday. "If you know a family in need that would like to see our movie but can't afford it have them come. It's first come first served."
"My mom would not have been able to afford to take me and my siblings. So, I'm honoring her and all single parents this #mlkweekend. Pass the word," she concluded the post, which accompanied a beautiful hand-painted watercolor portrait of Spencer's character from Hidden Figures, mathematician Vaughan, by artist Stella Blu.
Hidden Figures tells the inspiring story of three black female scientists and mathematicians who helped NASA during the early days of the space program to send the first American astronaut, John Glenn, into space for the first complete orbit of Earth.
The film has done exceedingly well in the box office since it hit theaters on Christmas Day and has already gotten a 93 percent rating on Rotten Tomatoes, from both critics and audience reviews. According to Variety, Hidden Figures topped the "charts for the second straight weekend after earning $26 million" and the movie's "message of empowerment and triumph over prejudice was amplified by the Martin Luther King Jr. holiday weekend."
There's nothing hidden about the film's success and the love fans have for the film's characters. And Spencer's incredible act of generosity over the holiday weekend shows that she's an admirable person off-camera as well, as if we didn't know it already.
If Hidden Figures wasn't inspiring enough on its own, then this kind gesture can certainly boost anyone's motivation in the right direction to pay it forward and spread the type of love and compassion that's much-needed in the world right now — and on MLK weekend, it's exactly the sort of gesture of which King himself would have approved.