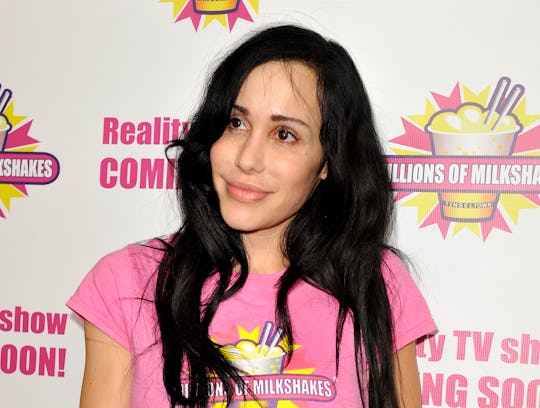 Toby Canham/Getty Images Entertainment/Getty Images
Octomom Nadya Suleman's Kids Are All Grown Up In These Thanksgiving Posts
Everyone remembers Nadya Suleman, more often referred to by the media as "Octomom," right? Back in 2009, the infamous mom was thrust into the spotlight when she became pregnant with and delivered octuplets — eight babies at once. After that, the mom of 14 (she had six children already, before the octuplets) continued to be a source of controversy. From criticism about her accepting government assistance, to questions about the ethics of implanting too many embryos at once during in vitro fertilization, to her making a sex tape, the media was far from kind to this struggling mother. Now, Octomom Nadya Suleman's kids are all grown up in these Thanksgiving photos. Has it really been eight years?
On Thursday, the 42-year-old mom and her octuplets took part in an annual Thanksgiving race/field day in their California community, People reports. Suleman, who now goes by the name Natalie, shared videos of the youngest of her brood — Makai, Josiah, Isaiah, Jonah, Maliyah, Jeremiah, Nariyah and Noah — on Instagram. In 2016, Suleman had also shared a photo of herself and the children at the same event. "Thankful for another day of health and happiness!" the busy mama captioned the holiday shot with her then 7-year-olds and one of her older children. "And of course, another Thanksgiving morning race! #5k#Thanksgiving#Thankful#HealthyFamily#AttitudeOfGratitude"
This Thanksgiving, Suleman opted to share some action shots of her children participating in the event. "Sack Race...#WhenYourKidsTakeUpTheEntireSackRace 😂 #NeverGiveUp," she captioned on her videos. That last hashtag appears to be directed toward one of her sons, Jonah, who was noticeably behind his brothers and sisters in the video. Although his mom encouraged him, shouting, "You can do it, don't give up!" the slowest sibling of the bunch decided to ditch the sack in order to catch up to the rest of the kids at the finish.
Another video posted from the Thanksgiving event features Suleman ensuring that little Jonah wasn't left in the dust for a second time. The dedicated mama is shown carrying her son on her back to finish the 5K race. "And last but not least to finish the race... #LittleJonah," she wrote.
Interestingly, the term "Octomom" became relevant again back in January, seemingly out of nowhere. Steve Mnuchin brought up Suleman during his confirmation hearing after he was nominated by President Donald Trump to lead the Department of Treasury. The former banker addressed his time spent leading OneWest Bank in the midst of the housing crisis and specifically, he mentioned having to foreclose on Suleman's home. "The most troubling loan was actually to the Octomom and we worked very, very hard... to move her to another home," Mnuchin said, according to the International Business Times.
Earlier this year, Suleman opened up about the the judgement she had faced when the single mom made the decision to provide for her children in what many might consider controversial ways. The mom of 14 had released a sex tape, became a stripper and posed for a nude photo shoot — all actions Suleman said she now regrets, according to Inside Edition. "I never coined the term Octomom. Octomom was created by the media," she told Inside Edition, according to People. "They made it up without my permission, but I took accountability out of desperation to provide for my family. Shamefully … I abandoned my own identity."
"I had stopped wanting to do it from day one," Suleman told People. She continued:
I was violating my boundaries and my value system and my own self. I didn't think of it at the time because I was in survival mode, and I was doing whatever I possibly could to provide for my kids.
Suleman made the decision to shed her "Octomom" persona in 2013 and has returned to working as a counselor. "I was alive again," she told People. "As 'Octomom,' I was the walking dead. When I woke up and I went back to my roots, my helping profession, and my kids, we were struggling financially but it didn't matter. I never felt so free and so happy in my life."
As much as the media hated on Suleman and her desperate choices years ago, I'm so glad to see that she and her children are in a good place. As she told Fox News last year, "I own and take responsibility for my poor choices, but it certainly doesn't take away from how extraordinary these kids ended up turning out to be."
Check out Romper's new video series, Romper's Doula Diaries:
Watch full episodes of Romper's Doula Diaries on Facebook Watch.