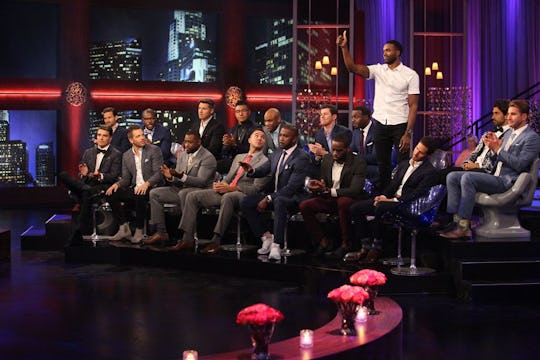 Paul Hebert/ABC
DeMario Introduced An Interesting Catchphrase During The 'Men Tell All'
Had a lovable The Bachelorette contestant deployed the phrase "ocular facts" to refer to hard evidence during the reunion special, it could have taken off and become a thing. Unfortunately, the season's resident player DeMario Jackson used it in reference to a supposed lack of physical proof that he was in a relationship right before coming on the show, which, needless to say, didn't endear him to viewers. Ocular fact memes from The Bachelorette: Men Tell All took off and DeMario got roasted.
As we all remember, there was an unexpected guest on Rachel's ~love and basketball~ group date, complete with coach Kareem Abdul-Jabbar firing off sports/love metaphors. A woman named Lexi showed up and took Rachel aside to let her know that DeMario was not as single as he seemed. She claimed that they were in a relationship and he disappeared all of a sudden, only to reappear on last season's "After the Final Rose" special, as one of Rachel's (more charming, TBH) preview suitors. Not only that, but Lexi showed Rachel text messages proving that DeMario still had keys to her apartment and that they had slept together the last time she saw him.
Which makes it particularly inexplicable that DeMario asked Chris Harrison when it all came up: "Are there any ocular facts that [Lexi] and I dated?"
Bro.
DeMario dug himself a very, very deep hole when discussing the situation. "Here's what happens: this random ass chick call in and says she's my girlfriend," he broke it down. "By you guys' logic, I'm Beyoncé's boyfriend. I'm dating Rihanna." To which Harrison retorted: "Beyoncé didn't have physical proof."
DeMario's stellar defense was that Lexi only had text messages, and he texts everybody. "I know her. Like The Weeknd say, 'They only call you when it's half-past five.' That's called a side chick," DeMario claimed to a chorus of audience boos. "You can boo me, I'm keeping it real. She said we dated for six months but like, facts are facts. Show me a picture of her and I."
Harrison pointed out that DeMario was, indeed, on tape saying he had dated Lexi, which he was now trying to deny, but apparently, neither a taped confession nor a series of texts count as ocular facts. I'm not one of the multiple attorneys on the show this season, but I'm pretty sure either of those receipts would be admissible in a court of law.